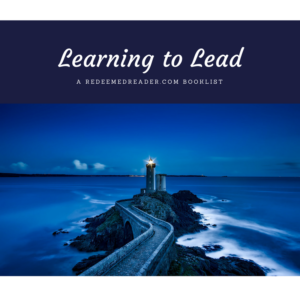 In his Confessions, Augustine wrote this on the subject of "time": "I understand well enough what time is, so long as no one asks me."  In the same way, we recognize leadership but find it hard to define. "Leadership" takes different forms in different circumstances, and it has many components.  The best leaders are also good followers. Christians recognize that everyone in authority (the one consistent requirement for leadership) is also subject to a higher authority.  To complicate matters further, it's as important to recognize whom not to follow (in spite of brilliant leadership qualities), as well as whom to follow.  
Fiction and nonfiction present outstanding examples of leadership, both good and bad.  Here's a selection of books we've reviewed (and a few we haven't), in four categories or qualities of leadership, arranged from picture books to adult reading:
Overcoming; Beating the Odds
Breaking New Ground: Explorers and Ground-breakers
Bucking the Trend and Fighting Back 
Taking Initiative
Bad "Leadership": Some men women have charisma, charm, courage, determination, skills, and/or initiative–great leadership qualities, used in a bad cause.  Besides learning the characteristics of good leaders, we also should learn to recognize the bad ones.
Support our writers and help keep Redeemed Reader ad-free.