The six-legged "Tiny Hero" of this gentle fantasy takes on a challenge far bigger than his size.
The Tiny Hero of Ferny Creek Library by Linda Bailey, pictures by Victoria Jamieson.  Greenwillow, 2017, 321 pages.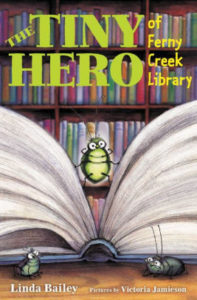 Reading Level: Middle grades, ages 8-10
Recommended for: ages 6-10
The Tiny Hero of the title has the distinction of being one of the few bugs in history who can read.  It was a result of circumstance: Eddie's family happens to live in the fourth-grade classroom of Ferny Creek Elementary, where they settled after escaping from a science project. His Aunt Min discovered the library, where she learned to read (and then taught Eddie, because he was the only one of his numerous family who wanted to).  But now Aunt Min is missing and Eddie is delegated to bring her back home  The journey to the library would be epic enough, but once he's there he finds himself caught up in a vastly more important adventure, with the fate of their beloved library at stake.
This is a pleasant little fantasy with strong, and deliberate, echoes of Charlotte's Web (and other children's literature classics).  Though tiny, Eddie is a gallant protagonist and his Aunt Min is a stalwart mentor.  The villain of the piece is suitably villainous and Eddie's very little, and very LOUD, brother Alfie provides comic relief.  Like Mr. Lemoncello's Library, this is one of those stories about the power of stories–better done, in my opinion, but it verges on worship.  "Books," murmured Aunt Min. "They light the way" (see Psalm 119:105 for a useful corrective).  Yes, books do enlarge our world, but they do it best when not proclaiming how great they are.  That said, it's nice to see big results from a tiny effort: a hero's a hero no matter how small."
Cautions: None
Overall rating: 3.5 (out of 5)
Worldview/moral value: 3.5
Artistic value: 3.75
Please follow and like us: