For middle grades: A compelling look into the life of Betty before X (Malcolm X) and the influence of the black church in the racially charged 1940s.
*Betty Before X by Ilyasah Shabazz and Renée Watson. Farrar, Straus, and Giroux, 2018. 256 pages.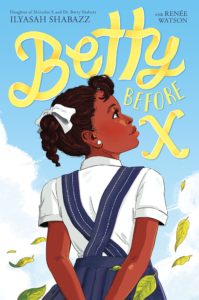 Reading Level: Middle grades, ages 8-12
Recommended For: Middle grades, ages 10-12
11-year-old Betty has already been shuffled around from her mother to her grandmother and back to her mother, the last a move from the South to the North (Detroit). It's 1945, and Detroit and America are going through similar growing pains as Betty herself: her mother's unfair treatment of her mirrors a little of the white people's unfair treatment of the blacks. Like the black community at large, Betty finds comfort in the local church. Betty moves in with a neighbor, joins the Housewives Leagues, and starts to mature into someone who speaks up for her own rights and the rights of her people. One day, years after this story closes, she will marry the man we know as Malcolm X.
Shabazz and Watson present 4 formative years of young Betty's life in this fictionalized biography. The tone is more childlike than the ages presented, but the content and "meat" of the story are robust enough for readers of Betty's own age.* Key themes include the dignity of making something with your own hands, getting fair treatment for your person and your work, the importance of the local church, the importance of gratitude and trusting the Lord, and the ways in which our actions show (or don't show) our love for one another. The central theme, of course, revolves around racism, when to speak up, when to forgive, and how to treat the people around you. This will be a rich discussion starter with the middle grades crowd.
It will be worth pointing out to young readers that Betty eventually converts to Islam; her neighbors' Christian faith, though, was a powerful influence on her young life and is acknowledged in the author's note. The lengthy author's note gives more background on Betty and helps parse out which characters are real and which ones are based on several characters. The author's note also discusses Malcolm X and Betty's conversion to Islam.
*The cover makes this book look too young, in my opinion!
Some favorite quotations from this story:
'To be able to design something with your mind and your hands is a powerful skill to have.' ~spoken by Mrs. Collins

'…the easy thing to do is to hold on to disappointments and pain. The hard thing to do is to let it go and forgive. The Lord has a plan for you that's bigger than you can ever imagine. Right now you just have to have faith in the Lord and find the good and praise it. Count your blessings, young lady. Name them one by one–even the small things. Doing that will comfort your heart, it will comfort your soul.' ~spoken by Mrs. Malloy

'Today, we're going to show you what leadership looks like. When you see something happening that you think is wrong, you do something good about it to make it right….' ~ spoken by Mrs. Malloy

'I think God made us the way He wanted us to be. I think maybe we make Him sad when we don't like how He made us, like we're telling Him that what He created was wrong.' ~spoken by Betty
Cautions: none (but do read the final paragraph of the review)
Overall Rating: 4.5
Artistic Rating: 4.25
Worldview Rating: 4.75
*indicates starred review
For another well done biography of a leader in the black community, see Facing Frederick by Tonya Bolden.
More than 75 books for children and teens, all about islands, oceans, and more. Bonus: get a free hand-drawn reading tracker!
Reading Ahead for You
Reviews and Resources Weekly in Your Inbox