The Girl Who Drank the Moon is thoughtful fantasy with imaginative twists that mature readers will enjoy parsing out.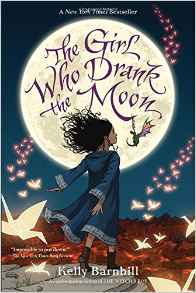 The Girl Who Drank the Moon by Kelly Barnhill.  Algonquin, 2016, 386 pages.
Reading Level: Middle Grade, ages 10-12
Recommended for: ages 12-15
In the Protectorate, a council of elders makes the rules and an order of cloistered sisters provide backup.  One big rule is that every year on the Day of Sacrifice, the youngest baby in the Protectorate is carried into the woods and left for the Witch, who probably kills and eats it, but nobody knows for sure.  They have the story all wrong, though—Xan, the "witch," is a benevolent rescuer who always carries the babies to a loving home in the Free Cities where they grow up healthy and strong.  For the latest baby, though, Xan makes a mistake.  Enchanted with the exceptional charm of this baby girl, she allows the infant to be "enmagicked" by the moon, and then there's nothing for it but to take her home and raise her with the help of a tiny excitable dragon and a hideous, gentle swamp monster who is wise as the earth itself.  Meanwhile, back in the Protectorate, some young people are wising up and some secrets are being unraveled . . .
What do you do with grief?  Ignore it, bury it, feed on it, use it as an excuse to dominate others or let it drive you mad?  Almost all of these characters bear a great sorrow, overshadowed by the annual sacrifice that has struck almost every household, and each deals with it in his or her own (mostly unhealthy) way.  But some gradually work their way to honesty and kindness. At least three distinct plot threads weave through the narrative and converge at the end.  For some readers, it will take too long to get there and the themes may start feeling heavy.  For others, the imaginative twists and turns will draw them deeper into the story, with layers of meaning emerging even after they've closed the book.  Because of the complex plot and themes, the ideal readership skews older than the reading level.  And although Christian elements of sin-bearing, forgiveness, and the value of human life can be drawn, new-age flourishes (especially from Glerk the swamp monster) might detract.  Some ideas can be interpreted both ways, as in
"Just because you don't see something doesn't mean it isn't there.  Some of the most wonderful things in the world are invisible.  Trusting in invisible things makes them more powerful and wondrous."
This could be a weak invocation of "magic," or it could be a witness to the Kingdom of Heaven—equally invisible, equally powerful.  The "sorrow" theme takes the novel to some sad places and intense scenes.  Not, I think, a novel of general appeal, but readers who like their fantasy deep and suggestive may be entranced by it.
Cautions: Language (one "damned"), Worldview (some new-agey references), Supernatural (although the "witch" isn't typically witchy)
Overall rating: 3.75 (out of 5)
Worldview/Moral value: 3.5
Artistic value: 4
The Girl Who Drank the Moon, Kelly Barnhill, fantasy, character values, honesty, life issues, death and grieving
Stuck at home? Enjoy our FREE Christian read-along adventure for all ages with lots of book ideas, discussion questions, and more!
Reading Ahead for You
Reviews and Resources Weekly in Your Inbox