A picture book biography told in first person about a remarkable slave who was a renowned cave explorer.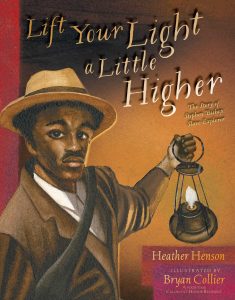 Lift Your Light a Little Higher: the Story of Stephen Bishop: Slave-Explorer by Heather Henson and illustrated by Bryan Collier. Atheneum Books for Young Readers, 2016. 30 pages.
Reading Level: Picture Books, ages 8-10
Recommended For: ages 4-10
Daring cave explorer and mapper of the largest cave system in the world; well-spoken and knowledgeable cave tour guide to thousands of visitors over a 20 year span; known by name and reputation throughout the U.S. and much of Europe in his lifetime; slave. The incongruity of this last descriptor of Stephen Bishop, starkly contrasting with the others, is the pivot point for this picture book told in first person narrative.
The book opens with Bishop addressing the reader:
The past is like a cave sometimes. Dim and dusty, and full of twisting ways… Don't worry, though. I know a few things 'bout leading folks around inside the dark… Stick close to me, and you won't get lost. Think you're ready? All right then, here we go.
The reader follows as Bishop leads through details of his life; likens being a slave to the lot of an ox or mule, "bought and sold, along with the land I work," and reflects on the freedom he has in the dark of the dave as a Guide to "walk before other men, not behind." His voice is quiet, and there is no mention of physical abuse. But the hunger for freedom over all other good things comes through with power and poignancy. The illustrations by award-winning illustrator Bryan Collier, juxtaposing watercolor and collage, are beautiful but slightly jarring, mirroring the contrast between Stephen Bishop's world class accomplishments and his slavery. This could be a good first book for introducing younger children to the reality of slavery.
Note: Author's and illustrator's notes at the end provide more information on Stephen Bishop's life as well as on the making of the book itself.
Cautions: none
Overall Rating: 4.5 (out of 5)
Worldview Rating: 4
Artistic Rating: 5
Talk amongst yourselves...