William Kamkwamba's own story of his efforts to bring reliable electrical power to his impoverished African village makes fascinating reading, especially for mechanically-minded middle-graders.
The Boy Who Harnessed the Wind (Young Reader edition) by William Kamkwamba and Bryan Mealer. Dial, 2015. 292 pages
Reading Level: Middle Grades, ages 10-12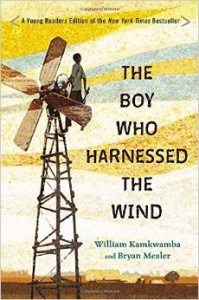 Recommended for: ages 10-up, especially boys
My name is William Kamkwamba, and to understand the story I'm about to tell, you must first understand the country that raised me. This would be Malawi, a small country located in southwestern Africa, and a village of about ten houses made from mud bricks. William describes his home in loving detail, but even more interesting is the worldview that surrounded him. Superstition blended with practical necessity and well-constructed cons by self-proclaimed witch doctors. As a young boy William fell prey to some of these, but fortunately for him, his father was a Christian. "Respect the wizards," Papa advised, "But remember, William, with God on your side, they have no power against you."
Though free from the wizards, William and his neighbors were still prey to poverty, and the most harrowing chapters of this book deal with the devastating drought and famine of the mid-nineties, during which many of his neighbors died. Even after the danger was past, William's family had no money for school fees, and his lively brain thirsted for a project. Fortunately again, a small library had opened in the local primary school, consisting of books donated by the American government. Here William discovered his passion for science, especially electrical engineering. He discovered that electricity could be generated by wind or water power. His village had no shortage of wind. What if he could build a windmill?
The narrative focuses on his self-motivated efforts to learn the theory and figure out the practice. Mechanically-minded readers will love this part: how trial and error, an old bicycle and an odd collection of parts from the junkyard led to eventual success. We know from the prologue that success occurred, but the way there included failures and potential disaster. William gives no clear declaration of his own faith and parents may want to screen out the numerous misuses of God's name that pop up, especially in the second half. But William also gives praise to God for the blessings that came his way, with which he was able to bless others. This Young Reader edition, based on the original version for adults, is engaging and readable. It's the kind of alternate-culture story that unified as well as enlightens—diversity at its best.
Cautions: Language (several instances of "Oh God," and "by God")
Overall Rating: 4.5 (out of 5)
Worldview/moral Value: 4
Artistic Value: 5
Categories: Middle Grades, Nonfiction, Multicultural, Character Qualities, Life Issues
Support our writers and help keep Redeemed Reader ad-free.