At Redeemed Reader, we know Christian parents and educators want to find great books for their children and teens.
We know 

that your time is precious and limited,

that our culture is growing increasingly at odds with traditional Judeo-Christian beliefs,

and that knowing what to check out from the library can be a challenge.
Now, more than ever, we believe our mission is critical.
We help you shepherd your children as they learn to read critically, practice discernment, and enjoy great stories.
We're reading ahead for you.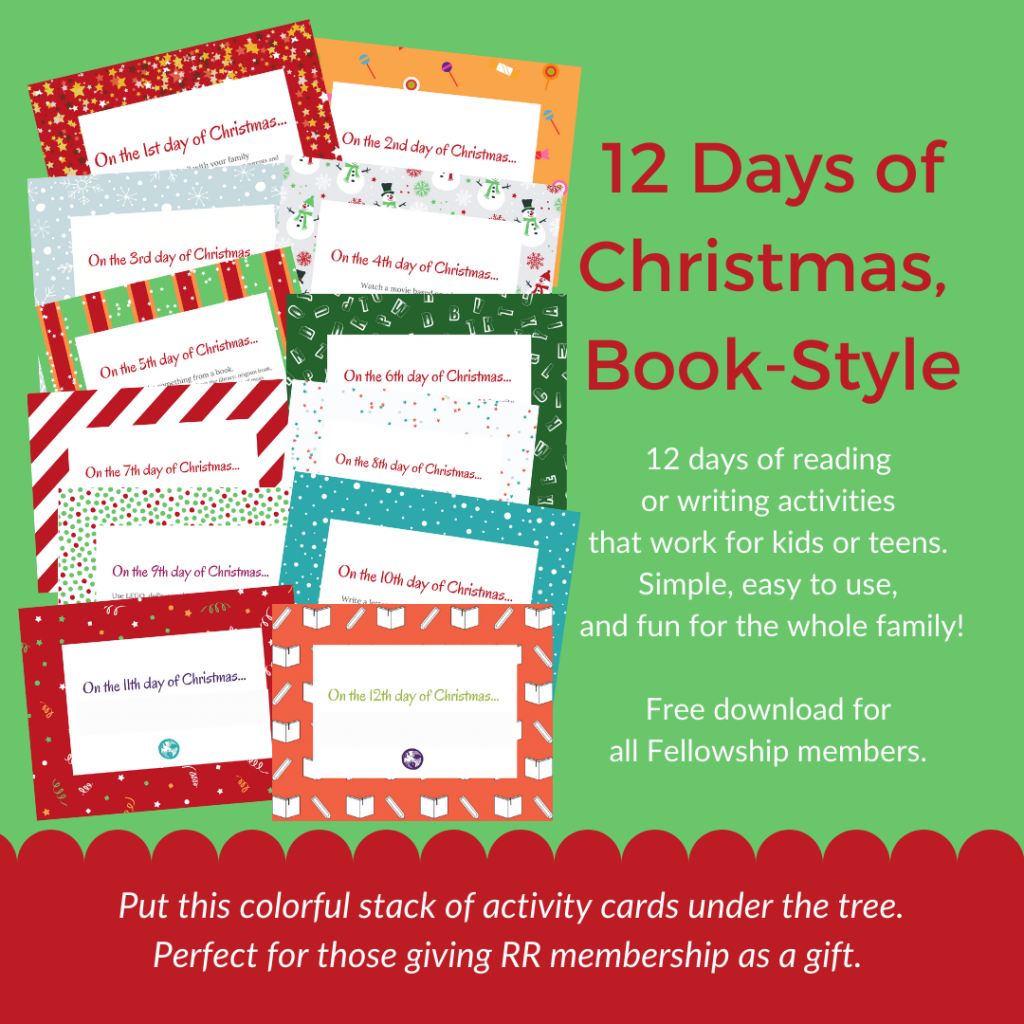 Giving a Redeemed Reader Fellowship Membership as a Gift? 
Looking ahead to another holiday at home?
Fun for kids and teens (and parents!): 12 days of bookish activities perfect for time with cousins or time just at home.
Minimal prep required, this free download is for all new and current members this December.
Join Redeemed Reader's Fellowship
Join Redeemed Reader's Fellowship today and help us continue to read ahead for you. Your support will enable Redeemed Reader to:
As Redeemed Reader grows, we need to begin compensating our team for their time as well as hire additional support staff. We would also like to hire additional book reviewers as our site continues to expand.
We have long dreamed of a truly robust search feature for this website in addition to offering more printables and other features as requested by our readers. Your support can help us produce these resources.
Help Keep Redeemed Reader Ad-Free
Ads slow down websites, clutter up web pages, and distract us from what is important. Increasingly, ads also feature images and content that are not child-friendly or consistent with a Christian worldview. We are committed to keeping Redeemed Reader ad-free as long as possible.
Support Behind-the-Scenes Costs
We are thrilled so many have found Redeemed Reader helpful, but increased traffic brings increased site maintenance costs. Your support will enable Redeemed Reader to continue to grow and reach the people who need us (including you).
Redeemed Reader Fellowship Memberships
Silver Key Fellowship
$1.99
/ Month
Introductory Pricing
10% off in RR store
Discounts with our Partners*
Priority Customer Service
Monthly Printables
Billed Quarterly
Golden Key Fellowship
$5.99
/ Month
Introductory Pricing
Silver Key Benefits plus
25% off in RR store
FREE Reading Challenge**
Quarterly Magazine***
Billed Quarterly
Best Value
Annual Golden Key
$59.99
/ Year
Introductory Pricing
Golden Key Benefits plus
2 Months Free
Summer Reading ($15 value)
The RR Companion ($15 value)
Billed Annually
*Our partners include companies like Exodus Books, New Growth Press, and more! Look for members-only discounts and special sales with these excellent businesses.
**The basic version of our annual reading challenge is free every December and January; members will get access to the Reading Challenge Hub which includes all trackers, awards certificates, and promotional materials included in the Premium Reading Challenge package (a $9.99 value).
***We're launching a new print magazine: The Redeemed Reader Quarterly. The only way to receive the magazine is through membership in the Golden Key Fellowship. Note: international members will pay additional fees for shipping. New members must be registered by Saturday, January 23, 2021, in order to receive the next issue.
The Redeemed Reader's Companion is a pdf guide to the best of Redeemed Reader's first 5 years; it will be included in every Annual Golden Key Fellowship.