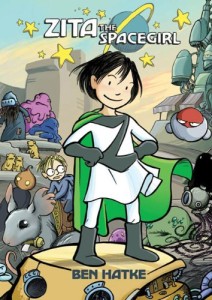 Zita the Spacegirl and her intrepid friends battle the forces of evil in extra terrestrial dimensions in this lively graphic novel series.
a review from our archives! (originally published May 25, 2015)
*Zita the Spacegirl Series by Ben Hatke. First Second, 2011 (to the present). ~200 pages
Reading Level: Graphic novels, ages 8-12
Recommended For: Kids ages 6-12
Zita the Spacegirl is an accidental hero: her friend Joseph gets kidnapped and transported to a new dimension, but Zita bravely follows after and determines to rescue him! Along the way, Zita is joined by a motley crew of rejects that include a mouse, select out-of-date or rusty robots, and a vagabond named Piper. While the first book concludes with Zita's heroic efforts to (successfully) save her friend Joseph, Zita herself is stuck in outer space. Nothing ventured, nothing gained, as they say, and Zita's career as "Zita the Spacegirl" is launched.
The series follows Zita's heroic adventures in outer space as she consistently and bravely steps up to the challenges facing her. Humorous scenes, skillful art, and clever plotting make this a first rate series. Fans of super heroes and adventures like the Avengers or Star Wars will enjoy Zita's escapades immensely. Recommended for readers who are reading chapter books and children's novels, these graphic novels are great choices for more light-hearted summer reading. No need to point out Zita's sacrificial service and friendship; those elements will stand out on their own.
Cautions: none
Overall Rating: 5
Worldview Rating: 5
Artistic Rating: 5
Categories: Graphic Novels, Character Values, Middle Grades, Science Fiction, Starred Review
*indicates starred review
cover image from amazon

More than 75 books for children and teens, all about islands, oceans, and more. Bonus: get a free hand-drawn reading tracker!
Reading Ahead for You
Reviews and Resources Weekly in Your Inbox