Always, Abigail by Nancy Cavanaugh. Sourcebooks, 2014, 311 pages.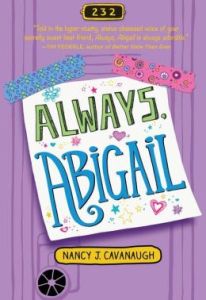 Reading level: Middle Grade (8-10)
Maturity Level: 3 (8-10)
Abigail Walters is starting sixth grade with high hopes of joining the pom-pom squad. She and her best friends Alli and Cami (better known as AlliCam) have planned and practiced for it since third grade, and Abigail has her reasons why making poms is More Important than Anything Else. Four reasons, in fact, carefully listed in her journal. She also writes five reasons for making lists, and three ways her lists help her succeed, and ten things here and four things there and before long the whole story is told (it's a fast read). Sixth grade, as it turns out, is not one long triumph for Abigail, but a series of ups and downs. Two devastating downs, right at the beginning: she doesn't make poms (only alternate) and Miss Hendrick, a.k.a. Old Hawk, is her homeroom teacher. Even worse, Old Hawk is her language arts teacher, who comes up with this ongoing "Friendly Letter" assignment that hooks Abigail up with the school's biggest loser, Gabby Marcos.
Experienced readers should guess that Abigail will do some serious growing up over the course of the novel, but her voice is so strong and engaging they'll want to stick with her even when she's being obnoxious. Anyone who's ever been through sixth grade, or is anticipating sixth grade, should be able to sympathize with problems that seem huge and insurmountable. When Abigail's breakthrough finally comes, it comes with a real payoff in satisfaction.
Also by this author: This Journal Belongs to Ratchet
Cautions: none
Overall value: 4.5 out of 5
Moral/worldview value: 4.5
Artistic value: 4
Recommended for: girls, reluctant readers
Recommended uses: discussion starter, independent reading, character building
Discussion points:
Literary element: The author uses lists as a device for Abigail to tell her story. How do the lists help you understand her and her world?
Thematic element: Abigail faces a number of challenges during her sixth grade year—what do you think about the way she handles them, and can you see yourself responding in a similar way? What's the turning point in the story?
Worldview element: What does Abigail finally recognize about herself (see page 277), and does this have any relation to I Timothy 1:14?
Categories: fiction, realistic fiction, friendship, compassion, school setting, peer pressure
More than 75 books for children and teens, all about islands, oceans, and more. Bonus: get a free hand-drawn reading tracker!
Reading Ahead for You
Reviews and Resources Weekly in Your Inbox