*A Splash of Red: The Life and Art of Horace Pippin by Jen Bryant and illustrated by Melissa Sweet. Knopf, 2013. 32 pages.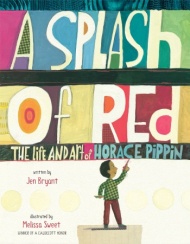 Reading Level: Picture Books, ages 4-8
Maturity Level: 2 (ages 4-8) and up
A Splash of Red chronicles the life and art of a man named Horace Pippin who was born in 1888. An artist from a young age, Pippin had to drop out of school to help earn money for his family. During WWI, he suffered a hit to his right arm and thought his drawing career was over. But he couldn't ignore that artist's nudge, and he eventually figured out how to support his artistic right hand with his strong left arm. N.C. Wyeth "discovered" Pippin, and soon the world noticed this talented black artist. Pippin's story is told without rancor, placing him firmly in a historical context in which he can't get a job (little education, weakened right arm, black man). Impeccable details in the art, quotations from Pippin himself, detailed author's and illustrator's notes, and a historical note fill in Pippin's story more fully. Sweet uses collage to showcase elements of Pippin's art and life, his quotations, and even his art supplies. These art supplies look very realistic, and the depictions of Pippin's own art look quite similar to his actual art. The endpapers also give us new information in illustration form. The text alludes to Pippin's family's faith, or at least the Bible stories he heard growing up, but that's as far as it goes. Any creative gift a human has is a reflection of our Creator, so be sure to point that out when reading this book with children.
Cautions: none
Overall Rating: 5 (out of 5)
Moral/worldview value: 5
Literary value: 5
Categories: Picture Books, Biography, Nonfiction, Award Winners (Schneider Family Book Award for ages 0-10; Sibert Honor Book; Orbis Pictus Award), Art, Character Values, Starred Review
*indicates starred review
Please follow and like us: