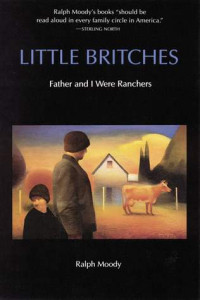 Little Britches: Father and I Were Ranchers by Ralph Moody. Bison Books, 1991. 260 pages.
Reading Level: Middle Grades, ages 8-10, ages 10-12 and up
Recommended for: especially boys
Bottom Line: A prime example of quality writing in an adventure story that is built on the relationship between a boy and his father. It is full of vivid details about the realities of a family trying to build up a ranch in Colorado around the turn of the twentieth century and shows how hardship and trials build character on the way to manhood.
It is hard to find well-written stories with strong father-son relationships. Little Britches by Ralph Moody succeeds admirably.
Just after the turn of the twentieth century, eight-year-old Ralph moved with his family from New England to Colorado in hopes that the climate would improve his father's tuberculosis. They almost returned immediately when they saw the homestead they had to build up and live on but persevered in spite of hardship and scarce resources. The book is full of vivid details about the daily life of a poverty-stricken family trying to make do on a ranch without whining or expecting pity. Generous neighborliness is contrasted with conniving ranchers, and Father's ingenuity and courageous example are prized.
Ralph's exploits are remarkable, with all kinds of boyish incidents and accidents that are better than most fiction. But it is Father's character and Ralph's relationship to him that are most compelling. Although Ralph rarely shows remorse for his misbehavior, the consequences for his sins are consistently demonstrated, and the greatest effect on his character comes from desiring his father's good opinion.
There are some instances of coarse language. The cowboys Ralph works with during the summer use language that is realistically unrefined, and the Moodys' best neighbor occasionally uses rough language as well. This is in stark contrast to the higher standard of speech that is set by Father. As a read-aloud, this is easily censored, but parents should know it is there.
The writing is fantastic. Mr. Moody captures his memories in a smooth narrative that reads convincingly like a ten-year-old boy's viewpoint. His detailed memory of events is colorful, and throughout his life he carried everything his father told him about becoming a man. The story is full of raw boyhood that is not crass, and Ralph's maturity by the end is believably subtle.
Cautions: Language (taking God's name in vain)
Overall Rating: 4.75 (out of 5)  
Worldview Rating: 4.5
Artistic Rating: 5
Categories: 4 stars and up, Adventure, Middle Grades, Read-Alouds, History, Character Values, Life Issues
Cover image from Goodreads

Reading Ahead for You
Reviews and Resources Weekly in Your Inbox