This accessible biography reveals the extraordinary, historically significant, and surprisingly admirable life of an American legend.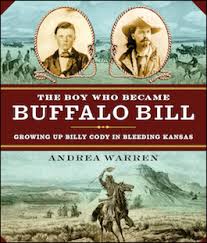 *The Boy Who Became Buffalo Bill: Growing Up Billy Cody in Bleeding Kansas by Andrea Warren.  Two Lions Press, 2015, 241 pages, including notes and index
Reading Level: Middle Grades, 10-12
Recommended for: Ages 10-15
His father, Isaac, was an abolitionist, his mother a pious (in the best sense) helpmeet.  The family moved to Ft. Leavenworth, Kansas, after the accidental death of their oldest son in order to make a new start, as well as an anti-slavery statement. That didn't go well; Isaac's outspoken statements earned him two stab wounds from a Bowie knife wielded by an equally earnest advocate for the other side.  Isaac never recovered, and died two years later when his remaining son was only 11.  Billy became the man of the family, hiring himself out as a mule driver, hostler, Pony Express rider (age 14), bushwhacker, Union soldier, and finally riding off toward the sunset and the job that would earn his nickname: hunting Buffalo to feed the track-layers of the Union Pacific Railroad.
The author wanted to write a book about "bleeding Kansas" (in the years just preceding the Civil War) and was looking for a young person to anchor the story.  With Bill Cody, she got more than she bargained for.  This kid lived a full life even before he was old enough to vote, and that was just the beginning.  Andrea Warren drew on her subject's autobiography as well as more objective treatments, so she can be honest about his failings—particularly as a very young man riding with pro-Union vigilante groups during the lawless Civil War years.  Bill's personal faith is a mystery but he revered his mother and credited her fervent prayers with preserving his life long enough for him to grow up. Even in his days of fame, he preserved a sense of modesty and fairness, making him an admirable celebrity role model for today   The evils of his time, such as slavery, the slaughter of the buffalo, or unfair treatment of Indians; are not excused but seen in context—a rare approach in history for children.  For the most part, readers can come to their own conclusions about these issues. The text is illustrated with engravings from dime-novel treatments of the period, adding a "heroic" gleam to the subject, which isn't too far off.
Cautions: Violence (not graphic), especially during the war years
Overall Rating: 4.75 (out of 5)
Worldview/moral value: 5
Artistic Value: 4.5
Categories: Middle Grades, Nonfiction, American History, Starred review
The Boy Who Became Buffalo Bill, Andrea Warren, middle grades, nonfiction, American history, westward expansion, Civil War, old west, work ethic
More than 75 books for children and teens, all about islands, oceans, and more. Bonus: get a free hand-drawn reading tracker!
Reading Ahead for You
Reviews and Resources Weekly in Your Inbox