The Year Money Grew on Trees by Aaron Hawkins.  HMH, 2010. 301 pages
Reading Level: Middle Grades, 10-12
Maturity Level: 4 (age 10-12) and up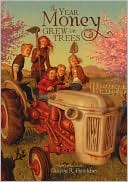 Bottom Line: Middle-grade kids persevere through hard work and frustration to cultivate their own apple orchard in this engrossing tale that beautifully illustrates the work ethic.
My dad always said that his feet were the only stupid parts of his body. They had walked him into every bad decision he had ever made, so he had to watch them carefully. He repeated that little pearl of wisdom so often that I began to take it literally and stare at my feet when they were moving. I had my eyes on them the afternoon they walked me into my career in agriculture. I blame my feet because I was only thirteen at the time and not exactly in the job market. 
Nothing much is going on in Jackson Jones' little farm community in northern New Mexico. He himself has no goals or aims until the next-door-neighbor, elderly Mrs. Nelson, pulls him aside with a proposal to take over her late husband's hobby apple orchard of 300 trees. She's doing this mostly to get back at her son, who isn't interested in the orchard. Jackson isn't interested either, until his father proposes getting him a summer job at the local scrap yard. Growing apples looks a whole lot better than hauling scrap. Trouble is, he doesn't know a thing about orchard cultivation, and the trees have several years of neglect on them. The library provides enough information to start, but his best guidance comes from more-or-less sympathetic adults like his Sunday school teacher, the notably taciturn Brother Brown. Jackson and his crew (two sisters and two cousins) prune, fertilize, irrigate, spray, thin, and finally harvest, with each step having its trials and satisfactions (except maybe the spraying, which is all trial). Finally, the reward–but Jackson hasn't told anybody about his deal with Mrs. Nelson and the parsimonious old lady is hinting that she won't honor it.
Despite the lack of hairbreadth escapes or life-threatening situations, the story is surprisingly suspenseful. At any stage the crop could fail, and success is no more precarious than when it's literally within reach at harvest time. Jackson succeeds because he doesn't have to pay his workers (illustrating the value of family), help always comes just when he needs it, and the weather cooperates with his fervent prayers. As the summer progresses each member of the team becomes personally invested, and the payoff is a lot more than money–which Mrs. Nelson gets most of anyway.  It adds up to a satisfying tale with well-developed characters and a solid theme: enterprise, initiative, follow-through, hard work, risk and reward. Jackson's bookkeeping and the detailed drawings of farm machinery will increase both math skills and appreciation for agriculture.  If your kids want to buy an operate their own tractor after reading this, though, you may want to exercise more authority than Jackson's parents do.
Cautions: none
Overall value: 5 (out 0f 5)
Worldview/moral value: 4.5
Artistic value: 5
Categories: Realistic Fiction, Middle Grades, Starred Review, Discussion Starter*, Character Values
*Discussion Questions:
Literary element: Which character or characters do you most identify with?
Thematic element: How is Jackson a good manager of his apple business? Name three specific examples.
Worldview element: What is "delayed gratification"? How does it relate to this story?
boys, realistic fiction, how-to, middle grades, fruits/vegetables, farming, work ethic, Reading Level: Middle grades ages 10-12, Maturity Level: 3 (ages 10-12) and up, The Year Money Grew on Trees, Aaron Hawkins
Cover illustration from Amazon: the featured image is of the hardback edition; the buy button below is for the paperback.
More than 75 books for children and teens, all about islands, oceans, and more. Bonus: get a free hand-drawn reading tracker!
Reading Ahead for You
Reviews and Resources Weekly in Your Inbox