*Dragon Quest by Allan Baillie, illustrated by Wayne Harris. Candlewick, 2013. 40 pages.
Reading Level: Picture Books, ages 4-8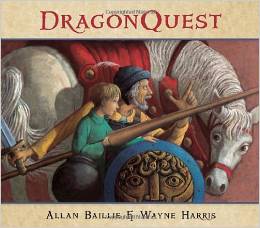 Maturity Level: 2 (ages 4-8)
One-line Summary: A courageous boy and an elderly knight seek the last dragon in this exciting picture book with a surprise ending.
"Hey, you!…Up, up, up, we have deeds to do!"  The young hero is reading a book when he receives this challenge (note the title of the book), and the challenger is an elderly knight setting out on his last quest—appropriately, to slay the last dragon. In soaring language the old fellow describes the bold deeds, awful perils, green glittering eyes, flashing claws, and fiery breath that lie ahead—"Now, there's a grand quest!" They set off through reptilian desert and haunted wood (your little quester will have a great time finding all the perils in the wonderfully detailed illustrations). Finally they arrive at Glass Mountain, lair of the Last Dragon. But the beast appears to be nowhere about. Can they find him? Kids will love the surprise revealed on the last page.
Dragon Quest was originally published in the 1990s in Australia. Near as I can tell, the American edition is new. Some reviewers have complained about its gender-specificity (Girls can fight dragons, too!), but that's the point: "For boys, it's also a delightful exploration of what it means to be a man," wrote Helen Sykes, the original publisher, in the afterword.
Cautions: Visually Problematic (some scary demons and witches that might disturb extremely sensitive children)
Overall Value: 5 (out of 5)
Moral/worldview value: 4
Artistic value: 5
Categories: Picture Book, Fairy/Folk Tale, Starred Review, Humor, Read-Alouds, Middle Ages
Cover image from Amazon

More than 75 books for children and teens, all about islands, oceans, and more. Bonus: get a free hand-drawn reading tracker!
Reading Ahead for You
Reviews and Resources Weekly in Your Inbox