This young reader edition of an adult nonfiction book explores the glory and agony (mostly the latter) of Magellan's epic voyage.

Magellan: Over the Edge of the World by Laurence Bergreen.  Roaring Brook, 2017, 170 pages plus notes and Bibliography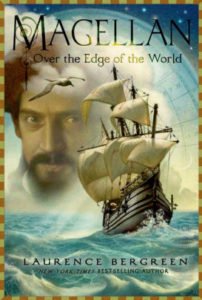 Reading level: Teen, ages 12-15
Recommended for: ages 12-up
Here's the subtitle: The True Story of the Terrifying First Circumnavigation of the Globe.  And that pretty much sums it up.  The expedition that sailed from Seville in 1519 with five ships and 260 souls ended three years later when one battered ship and eighteen equally battered sailors limped into port.  (Almost two years earlier, one ship of the original five turned back and arrived in Spain with a crew of mutineers who were promptly thrown in prison.)  The "captain general" was one of the vast majority who didn't make it back.
Magellan, as presented here, was a complex man: physically strong, determined, religious, and a very able seaman who successfully navigated his way blind through thousands of miles of totally uncharted territory, including the treacherous strait at the tip of South America that bears his name.  But he was also moody, mercurial, overbearing, fanatical, and often cruel.  Most likely it took a man of his strong personality to mount this expedition and see it through: he faced mutiny from the beginning, and professional rivalry before the expedition even set sail.  But see it through he did—by the time he was killed during an ill-conceived battle in the Philippines, his men had no choice but to keep sailing west, and thus complete the first voyage around the world (which was a lot bigger than they'd thought).
This book is a "young reader" edition of an earlier volume for adults, so I assume some of the grisly details are left out.  The first few chapters may be rough going for a young reader, consumed with details of court intrigue and back-biting as Magellan put his expedition together. (A list of major characters in the preface is helpful.)  Once underway, the narrative will keep them reading, and whatever one thinks of Magellan, his feat was one of the wonders of history.
For younger readers, see our review of Leo: Dog of the Sea
Cautions: violence (not graphic)
Overall Rating: 3.75 (out of 5)
Worldview/moral value: 3.5
Artistic value: 4