World War II is perennially interesting and not just to history buffs! We've focused on church history the past couple of years during October, first on the early church and general church history in 2016 and then Reformation church history in 2017. This year, we're honing in on Christians–and other heroes–during World War II.
Some of the people below came to know the Lord during their experiences in war time. Some risked everything precisely because they already rested in Christ. And some of the stories below are simply interesting stories of people who bravely followed their convictions. May they all be an example to us of ordinary people who stood for their convictions. And may we, like Corrie Ten Boom, trust in our Lord in all things.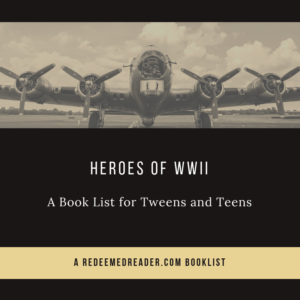 Heroes of World War II: A Booklist for Tweens and Teens
Of special note: any story that tries to be "authentic" and "realistic" for a war-time experience, particularly one as brutal as the Holocaust, carries necessary cautions of violence at minimum. Please read reviews to confirm whether a given book sounds like a good fit for the young readers you have in mind!
*indicates starred review; all titles linked to RR reviews, where applicable

Nonfiction: Christians in WWII

Nonfiction: Ordinary Heroes in WWII

Historical Fiction
What are YOUR favorite World War II resources for tweens and teens? Tell us in the comments!
Reading Ahead for You
Reviews and Resources Weekly in Your Inbox