You're black.  It's 1941. Uncle Sam's poster I WANT YOU doesn't include you and your dream of becoming a pilot. But sometimes dreams do come true…
You Can Fly: The Tuskegee Airmen by Carole Boston Weatherford. Atheneum Books for Young Readers, 2016, 96 pages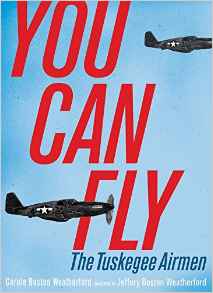 Reading Level: middle grades, ages 9-12
Recommended for: all ages
"No matter that there are only 130/ licensed black pilots in the whole nation./ Your goal of being a pilot cannot be grounded/ by top brass claiming blacks are not fit to fly/…The sky's no limit if you've flown/… on your own power in countless dreams;/…not if you've gazed at stars/ and known God meant for you to soar." (excerpted from first  poem, Head to the Sky)
Using a second-person free verse format, author Weatherford takes us on a journey.  She starts at a time when becoming a U.S. military pilot was only a dream for a person of color.  With baited breath, we read of First Lady Eleanor Roosevelt's flight with "Chief" Anderson of Tuskegee Institute, and breathe freely again when she sways President Roosevelt to order the army to train black pilots: the Tuskegee Experiment is born!  We're there for the intensive training of the exceptional blacks chosen for the program, and are reminded that their support base included family and friends in prayer: "Your God-fearing mama writes/ that folks back home are on their knees/ sending up timber for you–/their favorite son./ You vow not to wash out."  We then are transported through some of the amazing exploits of the Tuskegee Airmen during World War II, before we are given a brief but poignant look at what these men who risked their lives for their country experienced upon their post-war return to the U.S.
The Tuskegee fighter groups, composed of four fighter squadrons, did not lose a bomber in 200 of their 205 missions in World War II.  (This information, along with many details of their successful wartime missions, is listed in the timeline at the book's end.)  Addressing the pilots collectively as "you" in her 32 poems, Weatherford gives a nod in a number of places to the primary role Christian faith played, as in the poem Routines: "Every time you climb into the cockpit,/ you ask God to be your copilot."  Certainly the primary focus is on the Tuskegee Experiment; however the author also writes of the struggles for racial equality on other fronts in the U.S., spotlighting a few notable blacks who made breakthroughs in the color barrier such as Joe Louis, William Henry Hastie, and Lena Horne.  The scratchboard illustrations by the author's accomplished artist son, Jeffery Boston Weatherford, are the perfect complement to the spare text.  All in all, this is an excellent book that will acquaint any reader with the details and the pathos of the Tuskegee Airmen's story, a story of outstanding courage and sacrifice.
Cautions: none
Overall Rating: 4.5 (out of 5)
Worldview/moral value: 5
Artistic value: 4.5
Talk amongst yourselves...