This comprehensive history of submarine warfare in the Pacific will have WWII fans cheering and other readers quietly grateful for the sacrifices vividly detailed.
Dive! World War II Stories of Sailors and Submarines in the Pacific by Deborah Hopkinson.  Scholastic, 2016, 294 pages including appendices.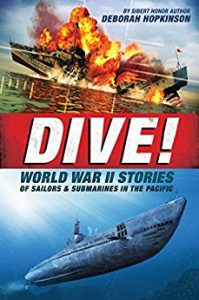 Reading Level: Middle Grades, ages 10-12
Recommended for: ages 10-15
December 7, 1941: in the wake of a devastating attack that wiped out the U. S. Pacific fleet, America wakes up to an audacious enemy with a bold plan. "This scheme of conquest [by the Japanese] was the most enticing, ambitious and far-reaching in modern history, not excepting Hitler's.  It almost worked, and might well have succeeded but for the U. S. Navy."  That was the judgment of historian Samuel Morrison, long after the fact, and Dive! details that counter-offensive.  The first Japanese ship sunk by a sub once the war began was only two days after Pearl Harbor.  But the first sub destroyed by the enemy was the Sealion, only a day after that.  From the very beginning, submarines were vital to the war effort in the Pacific, and that particular branch of the service suffered higher fatalities than any other.
Dive! is billed as "stories," and stories we get, from the legendary feats of subs and commanders, to the steady heroism of navy nurses, to the canine stowaways who became crew mascots.  But it's also a fairly comprehensive look at sub warfare, with a generous appendix including diagrams, stats, lists and further resources.  The four major sections of the book—one for each year of the war—center on the stories of four specific subs: Seawolf, Trigger, Wahoo and Tang with interesting tangents about weapons, tactics and personalities.  The author deliberately avoids salty language, even to adding ellipses.  I appreciate that, but even more I appreciate her focus on virtues like daring, determination and self-sacrifice.  World War II will love it.
Cautions: Violence (It's war, after all), Language (two instances of quoted profanity, e. g., "My God")
Overall rating: 4 (out of 5)
Worldview/moral value: 4
Artistic value: 4
Support our writers and help keep Redeemed Reader ad-free.