A compendium of recollection from men and women who experienced World War II as children brings the past up close and personal.
Voices of the Second World War: Stories of War as Told to the Children of Today, edited by Jeremy Vine.  Candlewick, 2018 (American edition), 320 pages.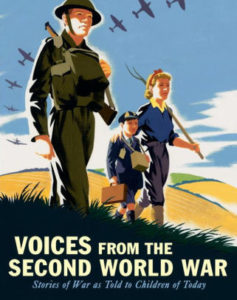 Reading Level: Middle grades, 10-12
Recommended for: ages 10 and up
In his introduction, editor Jeremy Vines muses, "I often wonder why the Second World War seems to get closer as time passes."  He received part of his answer during a project, sponsored by the British children's newspaper First News, that sent British children into villages and suburbs to interview elderly citizens about their experiences during that time.  Some lived through the Blitz in London, some were sent out to the countryside.  As circles widened, the voices came to include Germans and Americans and Japanese: RAF pilots, resistance fighters, "Land Girls," U.S. Navy sailors, Holocaust survivors.  Vines' own daughter Martha interviewed a woman in her eighties who vividly recalled hiding in the family cellar while bombs destroyed her home in Manchester.  "And then it struck me: this was not a pensioner speaking to a child; it was two nine-year-olds speaking to each other across the decades."
Some of these recollections, lavishly illustrated by photographs of the speakers, are stunning; others speak of ordinary experiences in an extraordinary time.  Some are wrenching; others encouraging.  Though arranged chronologically from the War's outbreak to the fall of Japan, it's not a book to read straight through but one to pick up and put down, digesting a few memories at a time. A valuable supplement to any study of WWII
Cautions: Intense situations, Language (a small amount of quoted profanity)
Overall rating: 4.25 (out of 5)
Worldview/moral value: 4
Artistic value: 4.5
More than 75 books for children and teens, all about islands, oceans, and more. Bonus: get a free hand-drawn reading tracker!
Reading Ahead for You
Reviews and Resources Weekly in Your Inbox