We're up to the sixteenth in our series of posts by Gladys Hunt, author of Honey for a Child's Heart.  In this one, she shares some thoughts about book illustration and compares three versions of a popular story.
I hope you are beginning to collect information and names of illustrators as you use book recommendations and lists.  One of the important parts of reading picture books to children is to expose them to all kinds of art work. The right words tell the story, but in a picture book, the story is also told by the illustrator.  Every illustrator helps a child interpret the story and expands the imagination about the ways a story "could be."
The old Ukranian folktale The Mitten is a simple example of this.  Three of the best known presentations of this story are given by Alvin Tresselt, Jan Brett, and most recently by Jim Aylesworth.  Mothers usually have a favorite among these three, but I think exposure to the same story told with different pictures is a gentle and provocative education in art forms.
Some adults have grown up knowing Alvin Tresselt's version and love it!  Published first in 1964, it is still in print. For these parents, choosing his book is like regaining their childhood. His art work is quiet, witty and authentic. Contrast this with Jan Brett's book (now in a 20th anniversary edition) with its lush borders on each page, the beautiful child and his grandmother—and you have another dimension to the story.  And more recently (2009) Jim Aylesworth's book explores feelings in the faces of the animals and makes the reader laugh over an explosive ending to his version of the tale. Compare all three and you are showing children that any of their drawings of the story will be just as legitimate as these.
Uri Shulevitz is an illustrator I hope you will begin to know as you search for children's books.  I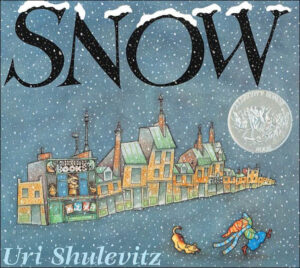 find all of his illustrations interesting, but I am especially enchanted by his book Snow.  The story reads like a child would think.  The illustrations are subtle. The child in the story is excited that it is beginning to snow, but the adults tell him it will only be a flake or two.  But they are wrong, and the child's hopes are realized. In a way, it's a story about hope. It's also about the wonder of snow.
So Sleepy Story is one of his latest books, which one reviewer calls a "bedtime bonanza."  It's a book for ages 3-6, with a musical rhythm that puts the whole household under its spell, but also celebrates moments that make up an ordinary day.  Bedtime books are popular, and this one is worth looking for.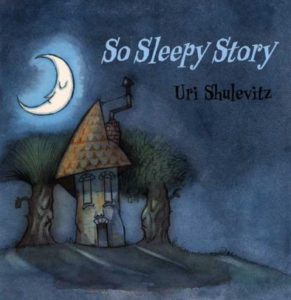 Uri Shulevitz has been a prolific illustrator of children's books. You'll find his work in many places on the shelves in the library, which is maybe the best place to first meet him.  Ask the librarian to help you find his work. He was born in Warsaw in 1935 and started to draw at age 3. His family fled Warsaw and roamed until finally in 1947 they were able to live in Paris, where Uri's drawing skills grew.  He moved to New York City when he was 24 and has been illustrating books ever since—some of them are for other authors and others are his own stories
Don't decide too quickly about what kind of illustrations or art work you like.  Let the story and pictures have time to sink in.
At RedeemedReader, see Janie's thoughts on "The Power of a Picture."  Megan provides a close look at a fairy tale illustrated by Paul O. Zelinsky: "Reading Rapunzel."  Finally, there are many illustrated versions of H. C. Anderson's "The Snow Queen," but here's a gorgeous version by up-and-coming illustrator Bagram Ibotoulline.
Gladys Hunt wrote these blog posts for Tumblon.com, a web app that helped parents understand children's development. Graham Scharf, one of the co-founders of Tumblon, has granted permission for these posts to be published here to achieve Gladys's aim: for children and their parents to explore and enjoy great books together.
Please note: all affiliate links benefit Redeemed Reader and help us continue to offer opportunities like this!
Support our writers and help keep Redeemed Reader ad-free.