This year marks the bicentennial of our national anthem, "The Star-Spangled Banner," which was written after the author witnessed the battle of Ft. McHenry from the hold of a British warship. That happened in September 1814, and we'll be looking for some good books on the subject to review early this fall. In the meantime, sing it with gusto, especially on our nation's 238th birthday!
Earlier this week came news of the death of Louis Zamperini, at the ripe age of 97. Just to get to that age is an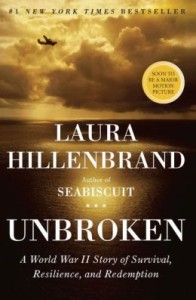 accomplishment, but Zamperini lived an extraordinary life, especially between 1936 and 1945. This December will see the release of Unbroken, the movie version of his life, based on the book by Laura Hillenbrand. If you haven't read it, read it. It contains a few instances of mild profanity and some very tough passages relating to hardship and torture (though not nearly as tough as they could have been). The subtitle is A World War II Story of Survival, Resilience, and Redemption. Survival is the tough part, for Zamperini could easily have died many, many times during the war. Resilience is the amazing part, for an individual to endure what he did and come out alive. But Redemption is the inspiring part, as a soul-broken man found his healing in Jesus Christ. Edward Lee Pitts interviewed Zamperini for World Magazine in 2010. He wrote,
When Hillenbrand started interviewing him for the book, Zamperini began praying that she would include his conversion. The author eventually tracked the actual sermon [preached by a young evangelist named Billy Graham] that changed Zamperini.

"When that happened I thought, 'Oh boy, the Lord is going to bless this book,'" he said. "To me the whole book is the message of salvation."
It might not be to everyone's taste, and definitely not for children (we recommend the new Young Adult adaptation for readers age 12-15), but this Independence Day, Louis Zamperini and his story reminded us that the tenacity of the human spirit, which he exemplified, is not enough. Does anybody know the last verse of "The Star-Spangled Banner"? Here it is:
O thus be it ever, when freemen shall stand
Between their loved home and the war's desolation.
Blest with vict'ry and peace, may the Heav'n rescued land
Praise the Power that hath made and preserved us a nation!
Then conquer we must, when our cause it is just,
And this be our motto: "In God is our trust."
And the star-spangled banner in triumph shall wave
O'er the land of the free and the home of the brave!
Reading Ahead for You
Reviews and Resources Weekly in Your Inbox