The Torchlighters Biography Series: Corrie Ten Boom by Kaylena Radcliff. Christian History Institute, 2014. 93 pages.
Reading Level: Middle Grades, ages 8-10, ages 10-12
Maturity Level: 3, 4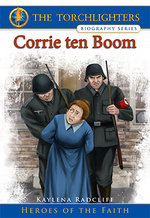 The beautiful story of how God used the unlikely ten Boom family to hide Jews in the Netherlands during World War II is told in The Hiding Place by Corrie, who miraculously survived a concentration camp. Among the extraordinary events in her life is her testimony of forgiveness. This biography includes significant events of The Hiding Place, along with further background material, and makes an excellent companion to the DVD. Although the book and DVD may each stand alone in telling the story, together they create a more complete picture of Corrie's life and experience. The emphases throughout are on the providence of God and Corrie's spiritual struggles and growth, culminating in the true freedom she finally found in forgiving her enemies. Illustrated with photos, maps, and images from the DVD.
Cautions: none
Overall Value: 4.38 (out of 5)
Moral/worldview value: 5 out of 5
Artistic value: 3.75 out of 5
Categories: Biography, Middle Grades, Christian, Modern History, Character Values
Cover image from publisher's website. This book received for review from the publisher for free in return for a fair review.

More than 75 books for children and teens, all about islands, oceans, and more. Bonus: get a free hand-drawn reading tracker!
Reading Ahead for You
Reviews and Resources Weekly in Your Inbox