A compelling–and ultimately hopeful–crossover title for teens and adults about Hitler's evacuation of Germany and the biggest maritime disaster in history.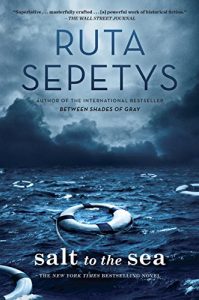 Salt to the Sea by Ruta Sepetys. Philomel, 2016. 400 pages. 
Reading Level: Teen/Adult, Ages 16 and up
Recommended For: Teens and Adults, ages 15 and up (see cautions)
Four young people claiming different national allegiances and bearing heavy emotional baggage (but little else) desperately flee WWII-era Prussia and Germany, hoping to get out before the Soviets reach them. Will there be enough room on the overcrowded ships that await them and thousands of other refugees converging on a single port in Northern Germany? Joana is a young Lithuanian nurse weighed down by guilt. Florian is a young German art historian carrying a heavy secret. Emilia is carrying an unborn child, desperately trying to keep her own secret. Alfred, a young German sailor, is carrying the heaviest burdens of all: hate and ignorance and pride. Joana, Florian, and Emilia have formed an unlikely group together with scattered other refugees (an old man, an orphan, a blind girl and others). All, like themselves, are homeless and starving; all are better together with their varied gifts than going it alone, so they forge on ahead.
The sinking of the Wilhelm Gustloff was a maritime tragedy that far outweighed the Titanic in terms of sheer number of people drowning. And yet, the desperate refugees who'd survived long enough to make it to the ship itself had already witnessed unspeakable things, much like three of the four young narrators of this novel. Sepetys speaks in turn through each of the four main characters, allowing readers to witness events and piece together secrets and back stories along with the characters in the book. She affords the reader a slight distance from the events, though; hearing everything through one voice would be too much, too personal. Because war is hard stuff. And there is hard stuff in this novel: rape, violence, murder, starvation, drowning, atrocities born of fear and true desperation (such as mothers throwing their children to the ship only to have a child fall and drown). Rarely does Sepetys devote more than a sentence or two to a single event, nudging her readers along to the end just as the refugees trudge along. And yet, despite the many horrible events recounted, this is a book that is ultimately hopeful: each human life is worth saving, each human life is valuable no matter its apparent weakness or disability, and each human life has a unique contribution to make. Not everyone makes it to the end of the book, but heroes rise up and nurture the next generation. This would be a good (albeit hard) read for older teens and parents together; both will enjoy it and there is much to discuss!
Cautions: Violence (war-time acts of violence; see second paragraph)
Overall Rating: 4.5
Worldview Rating: 4.5
Artistic Rating: 4.5
Discussion Questions:
If you read Between Shades of Gray by this same author, it's worth noting that Joana (in this book) is a cousin to Lina (in the other). Which book do you think is ultimately more hopeful in the midst of war and dark times?
The hopeful characters in this novel do not profess any spiritual leanings of significance. Do you think it's possible to have real hope without a firm faith in the Lord? What is our ultimate hope? How does the Bible define hope? (Hint: search for "hope" in the Bible or simply look at Lamentations 3 and Romans 5 as good starting points!)
Think about the various people in your life whom you may have overlooked, perhaps because they are physically handicapped in some way, are very young or very old, are of a different race or ethnicity than your own, are secretive and quiet…. Are you quick to dismiss (mentally, if not in outright actions) someone's apparent worth to you? Do you look for other friends or other sources of help? Why or why not?
How does the motley crew of Joana, Emilia, Florian, and the rest illustrate the body of Christ at work?
How can Christians bring a true message of hope to those around them? What sorts of experiences are your family members, friends and acquaintances going through in which you could come beside them, walk alongside, and offer comfort? What would be the most sensitive way to do that? (Sometimes, it's not the words we say, but our patient actions and consistent presence that speak the loudest.)
For another WWII book that crosses over from the teen to adult market, check out All the Light We Cannot See.