The Book Thief by Markus Zusak.  Alfred A. Knopf, 2006.  550 pages.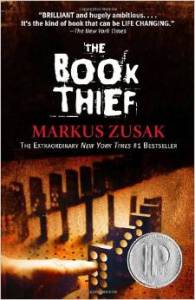 Reading Level: Young Adult, ages 12-15
Maturity Level: 6 (ages 15-18) and up
Bottom line Summary: The Book Thief, a literary novel for teens and adults, explores Nazi Germany and the Holocaust through the eyes of a child, in prose that is often beautiful but ambiguous
I wanted to tell the book thief many things, about beauty and brutality.  But what could I tell her about these things that she didn't already know?  I wanted to explain that I am constantly overestimating and underestimating the human race–that rarely do I ever simply estimate it.  I wanted to ask her how the same thing could be so ugly and so glorious, and its words and stories so damning and brilliant . . . . I am haunted by humans.
The cover of The Book Thief is a grainy photo of a line of dominoes stood on end, with a bodiless finger poised to knock over the first one.  The finger is Death, who narrates this story: the "I" of the passage above.  Some readers will be put off by Death's meandering introduction in the first few pages: the chopped-up time sequences, the immediate appearance of a deceased child, and the interruption of announcements, facts, definitions and theories, centered and bold-faced.  But the narrative settles down and unwinds a story, beginning with the death of Leisl Meninger's brother while the two children are traveling with their mother.  During the funeral, the gravedigger's assistant carelessly leaves a handbook behind, Leisl picks it up, thus becoming the title character.  Her mother soon disappears, and though we never know what happened to her it seems she was a Communist, and thus a criminal in the eyes of Nazi Germany.  Leisl is taken to a small town near Munich, where Hans and Maria Hubermann take her in.  Leisl's new Mama is loud, foul-mouthed and a rotten cook, with a stout heart nevertheless.  Papa is quiet, observant, and unobtrusively kind.  He and 10-year-old Leisl form an immediate bond, forged on his accordion-playing and his offer to teach her to read–even though he's barely literate himself.  Leisl knits herself into the community and gains a best friend, Rudy Steiner: a scrappy red-headed classmate who dreams of running as fast as Jesse Owens.  Then the war comes.  We knew it would, with Death as our narrator.
The story doesn't move quickly but it does move, compelling enough to carry a mature reader along.  Leisel is sought, wooed, redeemed, and eventually saved by stories–not from Death, who comes for her eventually– but from futility.  Death does not go so far as to say there's a purpose in life, but there's a record, and a grammar and vocabulary, and an irresistible mystery in the species that breeds both Hitlers and Hubermanns.  As an author Markus Zusak, a native Australian whose parents grew up in wartime Germany, both rewards and frustrates.  His prose is striking, but self-consciously brilliant.  Sometimes it works, as when Jews being herded to Dachau are looking at Death: "They would each greet me like their last true friend, with bones like smoke and their souls trailing behind."  But is the theme hammered a little too hard?  There is no sex and little violence, but the language includes plenty of vulgarities and profanities, especially from Maria and Rudy.  Though the main character is a child, I would recommend her story only for older teens–and not all of them.
Cautions: Language (profanity, vulgar words), Dark/Depressing (loss of parents, war)
Overall value: 3.75
Worldview/moral value: 3.5
Artistic value: 4
Categories: Historical Fiction, Young Adult, Adult, Award Winners, War
historical fiction, young adult, YA, adult, award winners, Prinz, National Book Award, World War II, Holocaust, war, death, The Book Thief, Marcus Zusak
More than 75 books for children and teens, all about islands, oceans, and more. Bonus: get a free hand-drawn reading tracker!
Reading Ahead for You
Reviews and Resources Weekly in Your Inbox