If we were picking favorite periods of history, World War II would be near the top of the list.  Though it's fast fading from living memory, it still seems close enough to be relevant to our world today, with plenty of drama and grit, as Betsy's review of Rose Under Fire demonstrates.  Rose is geared toward young adults, but here are two new titles appropriate for middle-graders:
Hero on a Bicycle, by Shirley Hughes.  Candlewick, 2013, 213 pages.  Age/interest level: 10-14.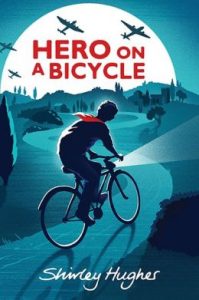 (Reviewed by Janie)
As our story opens, there's good news and bad news: the allies have landed at Normandy and are now sweeping across Europe, pushing back the German occupation.  The bad news is that nobody is safe, especially if they sympathize with the Italian resistance fighters known as Partisans.  Paolo Crivelli knows this very well, especially since his own father is a member of the Partisans—a fact he obviously can't advertise and isn't even supposed to know.  Neither he nor his sister Constanza nor his English-born mother has seen the man for years.  Now 13, Paolo is getting restless.  He sneaks out after dark and follows the ancient streets outside Florence on his bicycle, looking for trouble (though he would call it adventure) and daring the Nazis to catch him.  But it's the Partisans who catch him, and when they do they pass along a troubling message . . . for his mother. 
Author Shirley Hughes has enjoyed a long and distinguished career in the U.K as an author and illustrator of picture books.  This is her first novel, inspired by an unforgettable visit to Florence soon after World War II.  It breaks a few rules of the MG fiction game, notably by passing around the point of view to an older teen and an adult mom, and might play up the anxiety of the mom at the expense of the action.  But it's a respectable entry in the middle-grade war fiction field, with a believable situation, a dose of real danger, and a touch of romance (some kissing!).  Mrs. Crivelli's faith, which her husband doesn't share, receives due respect from her children who are still in the questioning stage.  There's one use of "hell" as profanity, but otherwise nothing offensive or graphic.
Odette's Secrets, by Marianne MacDonald.  Bloomsbury, 2013, 210 pages.  Age/interest level: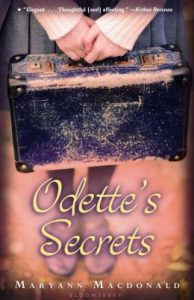 10-up
(Reviewed by Betsy)
Odette's Secrets sounded like it was right up my alley: novel in verse, WWII time period, little explored subject within its time frame. And I did enjoy it. Little Jewish Odette lives in Paris as WWII looms large, and Hitler begins his "cleansing" of Europe. Her father goes to fight for France, and he is soon captured and taken as a prisoner of war. As Paris heats up, her mother hatches a daring plan with other resistance fighters: to send their children to willing strangers in the countryside to keep them safe. The time comes to put this plan into action, and Odette, along with three other girls she's never met before, travel by train to a family they've never met before. They are instructed in all the good Catholic ways, go to a Catholic school, attend a Catholic church, and in general passed off as "good Christians."
A series of events follows this, some heartwarming, some heart wrenching. Yet, Odette's Secrets is based on the memories of the real Odette, so we know she survives. The story in this short novel in verse is a rich one and worth reading, especially for those who enjoy WWII stories. My one complaint is the format. Although I really enjoy novels in verse, for some reason the format just didn't work for me in this one. I kept realizing I was reading a novel in verse; a really great one will suck you in and the form doesn't keep intruding on your consciousness in such a way as to jerk you back out of the story.
Margi Preus tells a similar story of wartime espionage in Shadow on the Mountain; see our review here.  Also see Emily's thoughts about Anne Frank and our review of YA holocaust novels.  


More than 75 books for children and teens, all about islands, oceans, and more. Bonus: get a free hand-drawn reading tracker!
Reading Ahead for You
Reviews and Resources Weekly in Your Inbox