Black History Month Nonfiction Book List
It's a month full of book lists here at Redeemed Reader! We hope you enjoyed our Love and Laughter Book List on Valentine's Day. Today, we're offering a Black History Month Nonfiction Book List in honor of Black History Month!
But first: don't miss this earlier post, "Why Black History?" by Janie!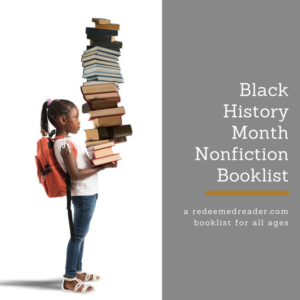 This Black History Month Nonfiction Book List is by no means exhaustive. Rather, it's a list of some of the books we think are outstanding contributions to the field. These titles are worth seeking out even if it's not Black History Month. They are great stories about amazing people. There are plenty of fabulous historical fiction titles, too, but true stories can be even more exciting (not to mention, they are TRUE!).
There is more to "Black History" than slavery and the Civil Rights Movement, although many of these titles relate to those key events as well. But do note the many titles that relate to subjects like baseball, space, music, and more.
As always, books are linked to RR reviews where applicable!
Nonfiction Black History Picture Books
Don't limit these just to "little kids." Many of these are complex enough to share with all ages! Do read reviews, where applicable.
Middle Grades and YA Nonfiction for Black History Month
Please do read reviews for these, where available. Unfortunately, black history in America is tempestuous and involves untold accounts of violence. A realistic, accurate portrayal of that history will include some hard elements. Most of the books below work for upper middle grades and young adults, but some will skew towards the upper end.
What are YOUR favorite resources for Black History Month (or black history any time)? Let us know in the comments!
Reading Ahead for You
Reviews and Resources Weekly in Your Inbox