Nonfiction picture books are one of the best ways to introduce a subject/person, enrich your study of a topic, or just learn something new! Hot off the press: below are some of 2017's most interesting nonfiction picture books, each of which is expertly illustrated by one of today's most talented illustrators.
Note: these aren't just for "little kids"–use them with your middle and high school kids as the subjects fit!
*A Boy, A Mouse, and a Spider: the Story of E. B. White by Barbara Herbert and illustrated by Lauren Castillo. Henry Holt and Co., 2017.
The creator of Charlotte, Wilbur, and Stuart Little comes to life for young readers in a this warmly illustrated picture book. Herkert muses over questions White might have had as a child ("What if Miss Greene called on him?" when facing school), introduces readers to "Uncle Andy," and writes of his discovery of Charlotte A. Cavatica. But Castillo's illustrations are what make this book a keeper. Echoes of Garth Williams' illustrations from White's books, a rich palette of earthy browns and greens, and White's beloved animals shine from the pages. Ages 6 and up (or younger as a read aloud). This title is also on our Winter Book Fair List!
Sergeant Reckless: The True Story of the Little Horse Who Became a Hero by Patricia McCormick and illustrated by Iacopo Bruno. Balzar + Bray, 2017. 40 pages.
Did you know that a little horse received two Purple Hearts and earned the rank of staff sergeant? Sergeant Reckless, a horse, became a marine during the Korean War, and she more than earned her keep. This is a heart-warming story of a horse that bonded with a group of U. S. Marines, ate everything in sight, and worked as hard as the Marines themselves on the battlefield. Delightful, lively illustrations accompany McCormick's text; book design is fantastic. Recommended for young history enthusiasts and horse-lovers. Ages 6 and up.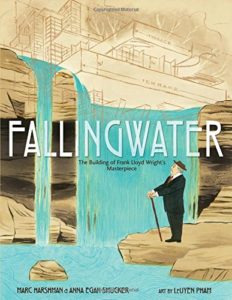 Fallingwater: The Building of Frank Lloyd Wright's Masterpiece by Marc Marshman and Anna Egan Smucker; illustrated by LeUyen Pham. Roaring Brook Press, 2017. 40 pages.
Frank Lloyd Wright's famous Fallingwater is recreated in this well-illustrated picture book. Pham's palette and illustrations expertly capture the feel of Wright's building design and his desire that the building represent its natural setting. An obscure topic, this book is a good library checkout for young architects, art students, and others who are interested in design. Ages 6 and up.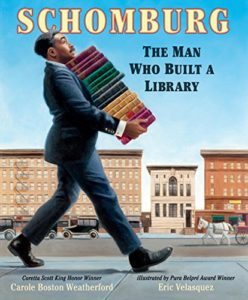 Schomburg: The Man Who Built a Library by Carole Boston Weatherford and illustrated by Eric Velasquez. Candlewick, 2017. 48 pages.
Arturo Schomburg, an African-American from Puerto Rico, set out to prove his fifth grade teacher wrong; she "told him that Africa's sons and daughters had no history, no heroes worth noting." Years later, the Schomburg Center for Research in Black Culture stands as eminent proof of Schomburg's efforts. The Schomburg Center began under Arturo's eager hands in the 135th branch of the New York Public Library during the height of the Harlem Renaissance. Schomburg collected and catalogued everything he could find about African American history: Frederick Douglass's speeches, Phillis Wheatley's poetry, Paul Laurence Dunbar's poetry, and much more. Weatherford's free verse is accompanied by Velasquez's marvelous art: his illustrations are illuminating and thought-provoking even as they are lovely to look at. This is a great choice for American history students or simply as a peak into the life of someone passionate about his lifelong pursuit. Recommended for ages 10 and up.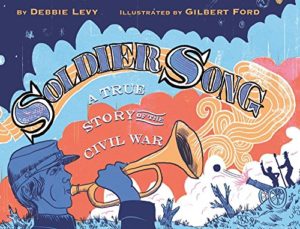 Soldier Song: A True Story of the Civil War by Debbie Levy and illustrated by Gilbert Ford. Disney-Hyperion, 2017. 80 pages.
Don't let the page count fool you: this is very much a picture book. But it's a picture book with depth, sheet music, excerpts from letters and diaries, a fascinating story, and equally fascinating illustrations/book design. it's hard to tell a story of the Civil War and give equal treatment to South and North, but this book manages to do so. Music (one song in particular) unites the two sides during a pivotal time the war (the Battle of Fredericksburg), and there's sheet music for young musicians to try their hand at it! Illustrations with silhouettes and vibrant splashes of orange are created primarily in blue, red, and purple and are reminiscent of woodcuts. Recommended for ages 8 and up.
For more 2017 picture books–fiction AND nonfiction–see our earlier list: 10 New Picture Books for All Ages
Support our writers and help keep Redeemed Reader ad-free.