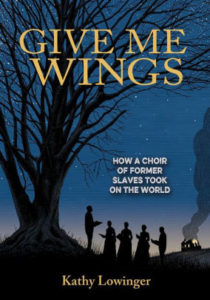 The little-known story of the Fisk Jubilee Singers demonstrates black talent, initiative, faith, and determination.
Give Me Wings: How a Choir of Former Slaves Took on the World by Kathy Lowinger. Annick Press, 2015, 145 pages
Reading Level: young adult, ages 12-15
Recommended for: ages 12-18
Even though the surrender of the Confederacy in 1865 released her from slavery, teenage Ella Sheppard faced formidable walls of prejudice in her quest for an education.  When her family moved to Ohio her prospects looked a little brighter, especially once she was accepted into the Fisk Free Colored School of Nashville.  But when the school fell on hard times and faced closure, Ella fervently hoped for a means of saving it so other former slaves and their children could have the same opportunity.  Her musical gifts, and her teacher and mentor George White, provided a way.  Together they organized the Fisk Jubilee Singers, a choral group that set out to travel the nation, and eventually the world, to raise money for the school.
The Jubilee Singers opened doors of opportunity and good will worldwide, but it wasn't easy.  Especially at first, the group faced all the bigotry and hostility of their homeland: often unable to find any restaurant that would feed them; forced to sleep in train stations. But the author makes clear that without a firm Christian faith the group would not have flourished in spite of their many obstacles.  The main narrative is hopeful and inspiring yet clear-eyed about the bigotry—also the kindness–these young people encountered in their quest to save their school.  Occasional sidebars illuminate the issues and culture of the times.
Cautions: Violence (some depictions of violence against black people)
Overall rating: 4.5 (out of 5)
Worldview/moral value: 5
Artistic value: 4
Please follow and like us: