A delightful picture book biography about a boy who loved to tinker and grew up to work on rockets and invent America's favorite water gun! This title is one of the picks for our Winter Book Fair 2016.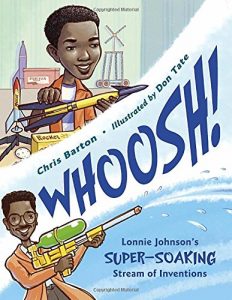 Whoosh!: Lonnie Johnson's Super-Soaking Stream of Inventions by Chris Barton and illustrated by Don Tate. Charlesbridge, 2016. 32 pages.
Reading Level: Picture books, ages 4-8
Recommend For: Budding engineers and tinkerers, ages 4 and up
Lonnie Johnson was one of those kids who always had a work in progress. His scrap and junk collections burst the bounds of his room, but his perseverance paid off. Robots, rockets, a career at NASA, Johnson just kept inventing. And still, his name and his products weren't really household names. Until he discovered the Super-Soaker by accident. Suddenly, a whole new world of cool toys and products geared to kids and families opened up, and Johnson's career took off like those rockets he loved.
Exuberantly illustrated, this picture book chronicles Johnson's life from his early childhood through to the present day. Kids who love to tinker and have their own scrap and junk collections in a box in their room will find a kindred spirit in this man who just wouldn't quit. Perseverance is much needed in today's world, and every future career will benefit from stubborn problem solvers who won't give up! In addition to our vocations in this world, the apostle Paul reminds us to persevere  in our Christian walks, to run the race set before us.
Cautions: none
Overall Rating: 4
Worldview Rating: 4
Artistic Rating: 4
Please follow and like us: