The contributions of four black women to the Space Race form an inspiring story of talent overcoming prejudice and receiving its reward.
Hidden Figures Young Readers Edition by Margo Lee Shetterly.  HarperCollins, 2016, 198 pages plus timeline, glossary, and index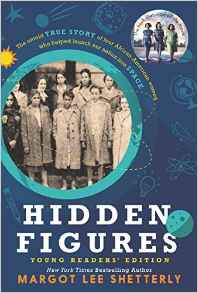 Reading Level: Middle Grade, ages 10-12
Recommended for: ages 12-15
Thanks to a hit movie, the world (figuratively speaking) knows their story: Dorothy Vaughan, Mary Jackson, Katherine Johnson, and Christine Darden, black women of the Jim Crow south, whose talents helped launch an American into orbit and eventually to the moon.  As is usually the case, the book came before the movie, but just barely; since the original book appeared in September 2016 and the movie only a few months later, I assume the story was optioned early and production schedules timed for maximum impact.  The story is actually several overlapping historical narratives: racial segregation and civil rights, the Space Race and the Cold War, the birth of NASA and science of space flight, "breaking the glass ceiling" (i.e., jobs previously held by men), and the individual lives of these remarkable ladies.  These subjects probably held together better in the original, adult version of Hidden Figures, at 398 pages.  Cutting almost half the content for a Young Readers Edition (published only two months later) creates a choppier narrative that moves at breakneck speed and might not be easy to follow if a "young reader" isn't well-versed on the historical context.
Still, it's an inspiring story whose telling is long overdue.  These women were not firebrands, but sincere Christians (most of them) who took what they had and used it in service to their country, their families, and God.  They stood up for themselves and took advantage of every opportunity to learn and grow.  This is where I felt most cheated by the reduced content: I wanted to know more about these women as individuals, before rushing on to the next event or milestone.  Young readers will still benefit from their story, but older teens might just want to read the adult version.  The movie over-dramatizes some of these events, such as Katherine Johnson's last-minute correction in the calculations for John Glenn's landing coordinates, which saved his life.  In the real world, Mrs. Johnson did spot and make the corrections, but she had weeks to do it.  If your kids see the movie (I understand it's mostly family friendly), it would be instructive to have them compare the movie with the book and note where the drama was cranked up a notch.
Cautions: None
Overall rating: 3.75 (out of 5)
Worldview/moral value: 4.5
Artistic value: 3.5
More than 75 books for children and teens, all about islands, oceans, and more. Bonus: get a free hand-drawn reading tracker!
Reading Ahead for You
Reviews and Resources Weekly in Your Inbox