One Last Word showcases poems from the Harlem Renaissance alongside contemporary poems by Grimes that build on and reflect those earlier poets.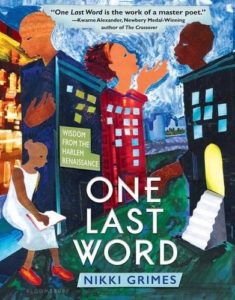 One Last Word: Wisdom from the Harlem Renaissance by Nikki Grimes. Bloomsbury, 2017. 128 pages.
Reading Level: Middle grades, ages 10-12
Recommended For: Middle grades and up
Well, son, I'll tell you:/Life for me ain't been no crystal stair.

Withered and wise, I might as well/sift memory for the hard lessons you, my son,/most need to learn, though how I'll/choose which stories to tell–/well…I'll just share a few with you.
These lines come first from "Mother to Son" by Langston Hughes and second from "Lessons" by Nikki Grimes. Using the Golden Shovel technique,* Grimes features a poem from the Harlem Renaissance followed by a thematically similar poem of her own. The combination makes a particularly rich collection of poetry as Grimes amplifies the original poems and speaks directly to today's youth. The collection is illustrated by a number of talented African American illustrators. Back matter includes short bios on both the featured Harlem Renaissance poets and the contemporary illustrators.
*The Golden Shovel technique stipulates that the poet uses words in order from the original poem and turns them into the consecutive last word of each line in the new, original poem. I've highlighted the words above to show this.
There is no shortage of books today with the "rise up!" theme. Grimes tackles this theme with gentleness, strength, and wisdom, encouraging today's audience to embrace their unique identity and to be a model of self control and strength in our angry culture. The poetry clearly addresses young black Americans, but all middle and high school students, regardless of their cultural/ethnic backgrounds, will find insight in these pages. Cultural ideas of external beauty are challenged. How to face racism with poise shines through. The rich legacy of a people undergirds the collection. Grimes pushes the "believe in yourself" message a bit without reminding readers that our ultimate strength and worth comes from the Lord. But her message is not strident; it would be easy to make the leap to discuss our unique selves in light of the image of God. This collection should also spark some good discussion about "everyday" racism, the sort that the majority culture easily overlooks (such as our external beauty standards being tied to majority culture). After all, God's children include all of the magnificently diverse ethnicities he has created!
Cautions: Physical description (1 set of poems mentions a girl's breast, but the focus of the poems are on the physical beauty of a black girl rather than a titillating description)
Overall Rating: 4.25
Worldview Rating: 4
Artistic Rating: 4.5
Nikki Grimes has also written excellent novels in verse. Check out Garvey's Choice for a great middle grades read.
More than 75 books for children and teens, all about islands, oceans, and more. Bonus: get a free hand-drawn reading tracker!
Reading Ahead for You
Reviews and Resources Weekly in Your Inbox