Summer Days Ahead
The glorious weeks of summer are upon us (if you live in the Southeast) or soon to be (if you live in the rest of the U.S.). In my house, this means blissful visions of peaceful days with children busily and happily occupied, mom on the porch sipping tea whilst chatting on the phone to friends, pool-time for kids while mom reads in a lawn chair, and nary a cross word or cranky child. After all, homework is a thing of memories and what is there to complain about?
Alas, if your home is like mine, those visions die a quick death as bored children who are too hot! to play outside whine that there is nothing, simply nothing to read and I miss my friends and when does the pool open?
Idle hands are the devil's workshop and all that.
Books to the Rescue!
Try strewing some of the books below around the house this summer. Check them out from the library, buy a couple for a trip to grandma's, or give one to your child as a summer gift. All are activity-based, and your family will learn something in the process (but don't call it school!). Be warned: some of these involve *crafting* or other supplies. Simply ignore the dining room table with its mountain of art supplies, the remains of experiments on the kitchen counter, and star charts or other guides lying around; head to porch with some iced tea and talk to a friend instead.
Summer Fun Booklist
Titles linked to RR reviews, where applicable.
Get Outside and Explore
Find the Constellations and The Stars by H. A. Rey. Summer is a terrific time to stay up late star-watching (especially if you're camping!). After all, no one has school first thing in the morning. H. A. Rey's star books are classics for families with kids of all ages; look for the newest editions because the star charts will be more accurate.
Follow the Trail: A Young Person's Guide to the Great Outdoors by Jessica Loy. Geared to elementary school kids, this is an all-in-one guide to planning and executing a camping trip, complete with wilderness latrine directions, plant and animal track identification pages, recipes, and more. Perhaps your kids can plan the family camping trip! (Or, just practice being independent in the back yard.)
Go Out and Play! Favorite Outdoor Games from Kaboom! Designed to get kids outside and playing, this might be just the ticket for those "I'm bored" moments or when you have some free time at the mountain cabin with the cousins all gathered together.
Look Up! Bird-Watching in Your Own Backyard by Annette Cate. Enjoy the humor, grab a field guide, and put these bird-watching tips to practice this summer. Your local library should have several field guides for you to test drive before you commit to one. My young bird nerd prefers Sibley guides while his mother prefers Audubon guides (we have both).
The Monarchs are Missing by Rebecca Hirsch. A look at the monarch butterfly coupled with steps young readers can take to help preserve this important butterfly. A similar look at a bird species is Snowy Owl Invasion!
Keeping a Nature Journal: Discover a Whole New Way of Seeing the World Around You by Claire Walker Leslie and Charles E. Roth. For parents as much as kids, this is a great introduction to documenting what you see outside, both in words and pictures. Loads of examples! Also recommended: The John Muir Laws Guide to Nature Journaling.

Maps and Travel
Children's Atlas of God's World. Many kids like to pore over "fact" books and this atlas delivers a better perspective than most. Travel the world from your armchair this summer through pages of this book. See also City Atlas: Travel the World with 30 City Maps and Maps. Then, pick a country or region of the world, head to the library for regional cookbooks, and whip up a family feast from that part of the world.
The Not-For-Parents Travel Book by Lonely Planet. Planning to travel to any exotic or foreign locales? This book might be fun to pick up and learn from prior to your trip! See also the Lonely Planet Not-For-Parents How to Be A World Explorer.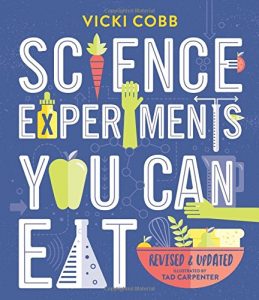 Science, Inventions, and Experiments
Wile E. Coyote, Physical Science Genius Series. Funny, but informative! If you have young science geeks at home, strew these around for a little extra reading practice that combines principles of physical science (and, since it's summer, plan on some Looney Tunes watching).
Nick and Tesla Series by Bob Pflugfelder and Steve Hockensmith. Mysteries + science + directions for making your own scientific gadgets = summer time win. Be prepared to start hoarding random scraps and old batteries and other "objects with potential" for your upper elementary aged science geeks who want to make all the cool projects. See also One-Minute Mysteries: 65 More Short Mysteries You Solve with Science!
The Way Things Work Now by David Macaulay. Updated and a good fit for all those "why" questions kids love to ask parents, especially when they have too much time on their hands! (the kids, not the parents). See also How Does My Home Work?
Science Experiments You Can Eat by Vicki Cobb. Kids who enjoy cooking and/or kids who love science will enjoy this mashup as they learn to make all sorts of foods (especially baked goods) that demonstrate scientific principles in the process.
Junk Drawer Physics: 50 Awesome Experiments That Don't Cost a Thing by Bobby Mercer. Not fancy, but perfect for young tinkerers (fourth grade and up should be able to use the book independently). Expect your kids to watch for any "trash" or items you didn't realize you didn't need anymore….
Mini Weapons of Mass Destruction Series. Loads of fun, these books each have a specific focus and offer much for would-be spies, sibling battles with mini catapults, and more. Kids will be scrounging your old credit cards, random clothespins, and duct tape, but it's all in the service of good, clean fun.
The Art of the Catapult by William Gurstelle. "Punkin Chunkin" Did your child's history studies this year pique their interest in ancient artillery? Check this book out to learn to build authentic catapults. If there's not war on the horizon, your kids can always prepare for this fall.
Electronics for Kids: Play with Simple Circuits an Experiments with Electricity! by Oyvind Nydal Dahl. Robust enough to work as an actual course for kids in circuits and electricity, the style is not overly academic and won't turn wannabe electrical engineers off as a summer read. Packed with hands on projects, this one will require some investment in electronics if you don't already have those sorts of things lying around. For tweens and teens who wish the school year afforded more time for these pursuits, this book is a perfect summer read/experience!

Arts and Crafts
20 Ways to Draw A…. Series (various authors/illustrators). Perfect for those who love to doodle, or who feel they can't draw but like to copy, the 20 Ways series offers 20 ways to draw different items, from natural elements like trees or stars to manmade articles like furniture and clothing.
Draw 50 … by Lee James. This series is a classic and has taught more than one person how to draw successfully. Pick a topic your child is interested in, provide paper and pencils, and see what happens!
This is Mouse–An Adventure in Sewing by Brenna Maloney. Have a young seamstress or tailor in the house? This book includes directions for making your own small stuffed animals and their costumes and props. Complete with narratives outlining the many adventures the animals can have, this book is a terrific choice for those wishing to expand their sewing skills and their imaginations. Not just for girls!
Sewing School: 21 Sewing Projects Kids Will Like to Make by Andrea Lisle and Amy Plumley. Learn to sew and make cool stuff! Written for kids and showing pictures of kids making the projects, this is accessible and provides a great foundation in the basics of sewing along.
Big Picture Bible Crafts by Gail Schnoonmaker. Designed to go along with The Big Picture Story Bible, these would be great fun for the hot summer afternoons ahead, especially if you have a crafty middle schooler and some younger children that same middle schooler can entertain!
Typography and Lettering Books. Plenty of brush-lettering books abound (such as Lettering with Purpose), but there are also myriad typography books that provide great models for kids to copy. Some of them are more boy-friendly than the trendy, flowery look common today. Try some of Dan X Solo's books, such as Circus Alphabets or Art Nouveau Display Alphabets for something a little off the beaten path.
Dover Activity and Coloring Books. There are so many books in the Dover catalog, and most are quite affordable! Search the Dover website, but if you can also find the book on amazon, you can often see some inside images to confirm if it something you will use. On amazon, search a topic plus the word "Dover." Interesting-looking titles include Practical Knots and Ropework, Easy-to-Make Bird Feeders for Woodworkers, Medieval Costume and How to Recreate It, Drawing Birds, and many more!
Origami Books. Dover makes these, too, but there are LOADS of origami books on the market. Check your local library, too–they will likely have a few. Look for clear, easy to follow directions and, if your kids are new to origami, be sure to start with books designed for beginners. More advanced books often assume knowledge of particular folds that may be confusing for newbies. [affiliate amazon link; thanks for your support]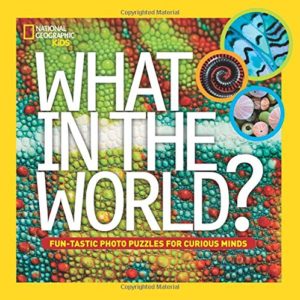 Miscellaneous Fun
What in the World? Fun-Tastic Photo Puzzles for Curious Minds by Julie Vosburgh Agnone. Optical illusions, puzzles with math and patterns, and more–perfect for kids who need something to while away the car-time hours en route to the beach or a rainy afternoon.
Entertaining Mathematical Puzzles by Martin Gardner. Mathematical riddles and puzzles await your most logical children–but no peeking at the answers! See also My Best Mathematical and Logical Puzzles by the same author. For kids who love logic puzzles, check out the Logic Safari books by Bonnie Risby.
Brick Flicks: A Comprehensive Guide to Making Your Own Stop-Motion LEGO Movies by Sarah Herman. Got some experienced LEGO enthusiasts and builders in your home who have just gotten their own cameras or smart phones? Throw this book at them and schedule the family film festival for later this summer.
Extreme (or Ultimate) Dot to Dot Books: Perfect for hours of focused attention, some kids really get into these. Keep some on hand for car rides, to work on during a read aloud, or just for a rainy afternoon. [link is to an amazon search; affiliate link–thanks for your support!]
Literary Cookbooks are a delightful way to revisit family book favorites (or to enjoy alongside a first-time reading!). See our Literary Cookbooks post and Roald Dah's Revolting Recipes.
Throw a Book Party! These are great fun, and kids can do much of the planning on their own. Pick a book you read as a family this past year and let the kids go to work. See also our earlier post on Book Parties.
Support our writers and help keep Redeemed Reader ad-free.