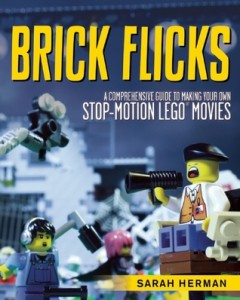 Brick Flicks: A comprehensive guide to making your own stop-motion Lego movies by Sarah Herman. Skyhorse Publishing, 2014. 206 pages.
Reading Level: Young Adult, Ages 12-15
Recommended For: Middle Grades, Young Adult, Ages 10-up (for experienced Lego builders; may require parental assistance)
Moviemaking with Legos has been going on long before the popular feature film The Lego Movie (2014). Modern technology has greatly simplified the process since the first amateur home Lego movies were shot in the 1970s; now digital cameras, software, and apps open up many possibilities.
The first half of Brick Flicks is a thorough introduction to this unique media form, including history, photos, interviews, and guide to resources from cameras to software. The second half of the book is practical how-tos: lighting, setup, animation, production, editing, special effects and promotion. Plenty of photographs demonstrate the range of possibilities and provide suggestions for improving techniques.
This is a fairly technical manual, a good resource for experienced builders (or possibly younger with parental assistance). A practical handbook for Lego and moviemaking enthusiasts.
Cautions: none
Overall Rating: 4 out of 5  
Worldview Rating: 4 out of 5
Artistic Rating: 4 out of 5
Categories: 4 stars and up, Nonfiction, Middle Grades, Young Adult, Movies, Hobbies, Ages 10-12, Ages 12-15, Ages 16-up
Cover image from goodreads. This book received for review from the publisher for free in return for a fair review.
More than 75 books for children and teens, all about islands, oceans, and more. Bonus: get a free hand-drawn reading tracker!
Reading Ahead for You
Reviews and Resources Weekly in Your Inbox