*Look Up! Bird-Watching in Your Own Backyard, by Annette le Blank Cate.  Candlewick,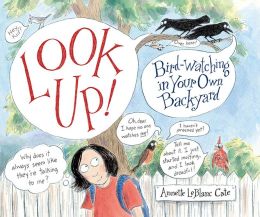 2013, 54 pages.  
Reading Level: Picture Books, ages 8-10
Recommended for: ages 8 and up
Bottom Line: Look Up! is a clever and information-packed introduction to the joys of bird-watching–and bird-drawing.
Yes, I know—bird-watchers are eccentric English librarians with elastic stockings whose idea of a good time is to hang out in bushes with painted buntings.  But you should really meet Annette, because she hangs out with some awesome birds, and will gladly show you what to look for, what to listen for, and how to draw it.  These pages are packed with information lying around everywhere to be picked up, like worms for robins to pull.  And these birds talk, too—from the title page on, they're full of friendly quips and clever asides.  Theme pages show color ranges (rainbow, black & white, shades of brown), silhouetted shapes to watch for, beak sizes, head ornaments and head markings—the latter are spectacularly on display at the "Modern Sparrow Field Market of Fashion."  Even the end papers and jacket flaps are crammed with clever details, like the hawk with the disdainful expression gulping down his latest kill: "Thinks he's a big tough guy but wears fuzzy little pants."
It's all good—for many laughs and chuckles as well as solid bird-watching (and drawing) tips.  It should be right up there with your Audubon field guide.
Cautions: None
Overall Rating: 5 (out of 5)
Worldview/Moral Value: 4
Artistic Value: 4
Categories: Nonfiction, Picture Books, Middle Grades, Starred Review, Animals, Art
Please follow and like us: