Why is the population of Monarch butterflies declining?  This book invites readers to ponder the mystery, and participate in the solution.
The Monarchs Are Missing: a Butterfly Mystery by Rebecca Hirsch.  Millbrook Press, 2018, 56 pages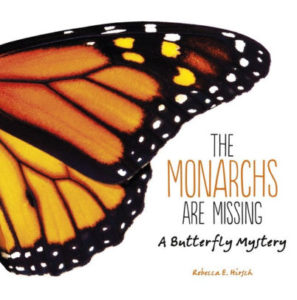 Reading Level: Middle Grades, ages 8-10
Recommended for: ages 8-12
Where do Monarch butterflies go in the winter?  Until the 1970s no one knew.  It took the dedicated efforts of a handful of lepidopterists and "citizen scientists" to determine that their migration route to them to Mexico—specifically to a very selective habitat where oyamel trees grow.  Natural milkweed, oyamel trees, farmland and pasture all work together to keep the delicately balanced lifestyle of these magnificent butterflies going, year after year.  But now there's another mystery: why is the monarch population decreasing?  And what can bring them back?
The author knows her material well and the story is intriguing.  Speaking for myself, I gained more appreciation for God's work (that always happens with books like this) and while lacking a spiritual dimension, the approach is not anti-religious and says nothing about evolution.  Human activity has damaged the butterflies' natural habitat but the author acknowledges that both humans and butterflies are important (nice to know!)
Cautions: None
Overall rating: 4.5 (out of 5)
Worldview/moral value: 5
Artistic value: 4
Please follow and like us: