A "super-gifted" boy genius bites off more than he can chew in this middle school story told from multiple perspectives.  Ages 10-15
SuperGifted by Gordon Korman.  Balzer & Bray, 2018, 297 pages.
Reading Level: Middle grades, ages 10-12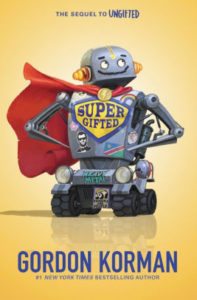 Recommended for: 10-15
In UnGifted, middle school troublemaker Donovan Curtis was accidentally classified as "gifted and talented" and transferred to the Academy for Scholastic Distinction.  Needless to say, thqt didn't last long.  Hijinks at the Academy sent not only Donovan back to Hardcastle Middle School but also his pal, super-genius (and super-geek) Noah Youkilis.  Noah is actually delighted.  After years of acing every class, exam, and project in sight, he's ready for a real challenge, like being a normal kid.  And he's not disappointed.  "Just getting from room to room without being elbowed, stepped on, or slammed into a wall was a learning experience."  Even better, he might be recommended for remedial classes!  But he's headed for serious trouble when he gets on the wrong side of super-jock "Hashtag" Taggert, so Donovan has to intervene.  In the freak accident that follows, Noah steps into bigger shoes than anyone anticipated, and a challenge he may not be able to meet.
Gordon Korman is a master of middle-grade humor that's funny without being gross, and can even leave a kid thinking as well as laughing.  The multiple perspectives allow all the principal characters to round out their personalities, and if the plot is a bit far-fetched, readers will still be happy to hop on for the ride.  And middle school troublemakers can  be reassured that "gifted and talented" can cover a wide range of talents and gifts.
Also by Gordon Korman: Restart, Masterminds
Cautions: none
Overall rating: 4 (out of 5)
Worldview/moral value: 3.75
Artistic value: 4.5
More than 75 books for children and teens, all about islands, oceans, and more. Bonus: get a free hand-drawn reading tracker!
Reading Ahead for You
Reviews and Resources Weekly in Your Inbox