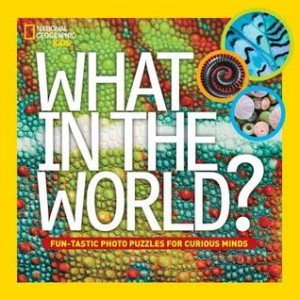 What in the World?: Fun-Tastic Puzzles for Curious Minds by Julie Vosburgh Agnone. National Geographic Society, 2014. 48 pages.
Reading Level: Picture Books, 4-8
Maturity Level: 2 (ages 4-8)
Reminiscent of I Spy books, What in the World? is exactly what its subtitle says it is: fun puzzles for curious minds. Patterns from the natural world, close-ups of animals from various angles, optical illusions, and spot-the-difference pictures fill this colorful book. Early elementary-aged kids in particular will enjoy exercising their cranial cavities as they hunt for clues and solve the puzzles. Back matter includes answers as well as directions for more involved puzzles and ways to find similar puzzles in the natural world all around us. While there is no mention of the Creator, this book provides a great jumping-off point for studying some of the amazing patterns and orderliness the Lord has put in His creation. (Hint: do a search for the Fibonacci sequence in nature and see what you discover!)
Overall Quality: 4 out of 5
Cautions: Worldview (Slight: "nature inspires")
Audience: Parents, Educators, Grandparents
Recommended Use: Activity Books, Entertainment, Curriculum Tie-In (patterns, nature study)
Categories: Activity Books, Education, Science, Nonfiction
Support our writers and help keep Redeemed Reader ad-free.