Junk Drawer Physics: 50 Awesome Experiments That Don't Cost a Thing by Bobby Mercer. Chicago Review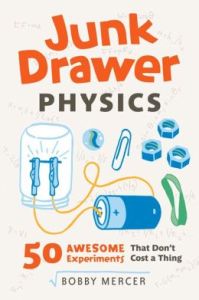 Press, 2014. 187 pages.
Reading Level: Middle Grades, ages 11-12
Maturity Level: n/a
Hands-on is how a lot of children learn, especially in the area of science. But if you're a home educator you may have some experience with science-text experiments that required you to truck down to the local education supply in search of obscure chemicals and lab equipment. And even when you had all the ingredients, the experiments didn't always "work." These might not all work either, but at least you won't be out much time or money. The projects are categorized according to the basic realms of physics, such as electricity and magnetism, sound and waves, forces and motion, etc., and each includes an explanation of how the science works. They're explained simply enough that average fourth graders can do them on their own. The experiments result in "magic" tricks, toys, tools, musical instruments, or just plain "ah!" moments. It's not fancy, with the simple layout and photographic illustrations, but it looks like a lot of fun.
Cautions: none
Overall value: 4 (out of 5)
Worldview/moral value: N/A
Practical value: 4
Categories: Nonfiction, Science, Physics, Applied Science, Experiments
More than 75 books for children and teens, all about islands, oceans, and more. Bonus: get a free hand-drawn reading tracker!
Reading Ahead for You
Reviews and Resources Weekly in Your Inbox