We're Not from Here delves into surprising depths while delivering a fast and fun science fiction adventure.
We're Not from Here by Geoff Rodkey. Crown Books for Young Readers, 2019, 249 pages.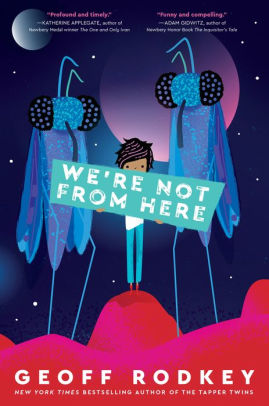 Reading Level: Middle Grades, ages 10-12
Recommended for: Ages 10 and up
For the humans who migrated to Mars after the big blowups on Earth, life is getting precarious. Their supplies are running out and the planet can't produce enough to sustain their colony. Earth will not be able to help for a long, long time (if ever), so when the settlers make contact with Planet Choom, it appears their problem may be solved. Originally settled by the Zhuri, an insect-like species, Choom has become a refuge for other homeless aliens. Lan Persaud and his family decide to accept the Choomian invitation to settle under the green skies and red grass—but, in the twenty Earth years it takes for the 1,022 travelers to get there, the Zhuri have decided that welcoming humans isn't such a good idea. Humans are emotional and violent—didn't they destroy their own planet? For the good of all species, it would be best to wish them good luck in finding another home. Finding another home is out of the question—the humans have gone too far to turn back. After special pleading, Lan, his sister Ila, and their parents are allowed a temporary provisional stay to see if they can adjust. The odds are stacked against them but they have to give it a shot. Otherwise they—and very likely the whole human race—are doomed.
It's actually not as dead-serious as it sounds, and even hilarious in places. Zhuri, the ruling species who resemble giant mosquitoes, possess a hive mentality and no sense of humor. Conformity is of highest importance to them. Kriks are like fuzzy green werewolves, a little more "human-like" but with a disconcerting amount of sharp teeth. The Ororo, who look like giant animated marshmallows, are tech geniuses who appreciate humor. They're the friendliest but also the least populous and influential. Where do humans fit? Turns out, they may be violent and emotional (some of them, at least), but also possess artistic gifts the others don't. And something else: comic genius.
Not to be taken too seriously, but there's a surprising level of substance: the plot touches on issues of fake news (used for population control), immigration, racism, censorship, social revolution, and the value of the arts. Lots to think about, if readers are so inclined, but lots to just sit back and enjoy, too.
Considerations:
Lan and his family pray together at significant moments, though the content of their religion is unexplored.
On page 145, one of Lan's alien hosts explains: "In most societies, there are two basic forces in conflict: progress and tradition . . . When progress has the upper hand, there is growth and change. But when that change comes too quickly or causes problems, tradition takes over to act as a stabilizing force." Can we see examples of change coming too quickly in our society? How could tradition act as a brake?
Overall rating: 4.75 (out of 5)
Worldview/moral value: 4.25
Artistic/literary value: 5
We are participants in the Amazon LLC affiliate program; purchases you make through affiliate links like the one below earn us a commission.
Also at Redeemed Reader
By Geoff Rodkey: Stuck in the Stone Age, a comic caveman adventure that doubles as a class in plot construction, and The Chronicles of Egg, including Deadweather and Sunrise and New Lands. Space Case by Stuart Gibbs is another fun middle-grade sci-fi novel involving inter-planetary colonization. Invictus and Defy the Stars, for older readers, explore timeless human themes in the vault of space.
More than 75 books for children and teens, all about islands, oceans, and more. Bonus: get a free hand-drawn reading tracker!
Reading Ahead for You
Reviews and Resources Weekly in Your Inbox