Stuck in the Stone Age offers a short course in story writing as well as a wacky time-travel adventure.  Ages 8-12
Stuck in the Stone Age by Geoff Rodkey.  Rodele Kids, 2018, 267 pages
Reading Level: Middle grades, ages 8-10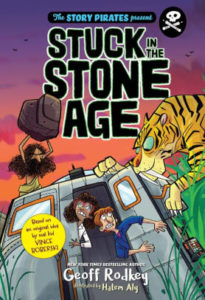 Recommended for: ages 8-12
Story Pirates is a "motley crew of artists, teachers, and comedians" who visit schools to help kids develop original ideas into stories—even full-length novels.  A few years ago they sponsored a contest for kids to submit a proposal for a novel: main characters, central problem or conflict, antagonist, and resolution.  The winner would see their proposal developed and published.  Eleven-year-old Vince Boberski submitted an idea called "Stuck in the Stone Age" and the rest . . . is history!
Almost literally, because there's a time machine.  Tom Edison (not that one) loves science and longs to be a scientist someday.  Unfortunately, he's not the academic type.  But he does manage to get hired at the Center for Extremely Advanced Science Experiments (CEASE)—as a janitor.  The most outstanding scientist at CEASE is Dr. Vasquez, but her up-and-coming rival is the shy-and-retiring Marisa Morice.  Marisa's big break comes when she is scheduled to show off her premier invention the same day that Dr. Vasquez unveils her time machine, and we can guess what happens then.  Tom and Marisa are transported by mistake back to the Stone Age, where they may just be stuck.  The story is lightweight but nonstop, and if the over-reliance on ALL CAPS serves no purpose, the humor is good-natured.
The novel actually takes up about 2/3 of the book.  The rest is a "Story Creation Zone," a short course in writing fiction that uses Stuck in the Stone Age as an object lesson.  Once readers have sped through the story, they may want to peruse it again to note how characters, setting, reversals, conflicts, climax, and all that work together to create a unified whole.  Then they can try it themselves!  Or not.
Also by Geoff Rodkey: Deadweather and Sunrise.
Cautions: Language (mild swearing like Oh my gosh and geez); Worldview (cavemen worship a saber-tooth tiger in what may be a  slight dig at religion)
Overall rating: 3.5 (out of 5)
Worldview/moral value: 3.5
Artistic value: 3
Please follow and like us: