Space Case by Stuart Gibbs. Simon & Schuster, 2014. 337 pages.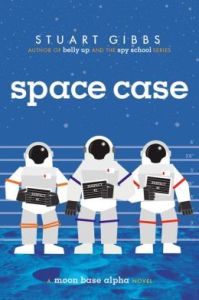 Reading Level: Middle Grades, ages 8-10.
Maturity Level: 4 (ages 11-12)
Moon Base Alpha (MBA), A.D. 2041. After six months, Dashiel (Dash) Gibson rues the day his parents—geologist mom, mineralogist dad—signed up for a three-year residence on the moon. Being an original colonizer of space isn't all it was cracked up to be in the brochure: the food is lousy, the living quarters miniscule, and you don't even want to know about the toilets. But you will, anyway. Dash can't wait to get back home to Hawaii, but his hyper little sister Violet is still jazzed about the moon, as are some of the grownups—especially Dr. Holst, the base physician. In fact, late one night (while he's in the toilet dealing with a digestive problem) Dash overhears Dr. H talking to an unknown party about an exciting new discovery he's about to announce. But the next morning Dr. Holst is dead, from an apparent accident. Only Dash knows it wasn't an accident.
Space Case is a rarity in middle-grade novels—real science fiction. In his acknowledgement the author thanks his astronaut friend Garret Reisman, who contributed first-hand information about what it's like to live outside the earth's atmosphere. But its other genre is good old-fashioned mystery, with many credible suspects and a culprit who's not what you think. If parents are okay with rather frank discussions about going to the bathroom in space (and who isn't curious about that?), it's good clean fun with plenty of action and a heart-pounding climax. The worldview reflects the optimistic humanism of the late Gene Rodenberry (creator of Star Trek), but at least Dash learns to count his blessings.
Considerations:
A small amount of language, specifically profanity: two uses of the word "godawful")
We have been informed that at least of the subsequent volumes in this series includes a same-sex relationship, so let the reader be warned. Space Case stands quite well on its own and doesn't end with obvious cliffhangers.
Overall Value: 3.75 (out of 5)
Worldview/moral value: 3
Artistic value: 3.75
Categories: Fiction, Science Fiction, Mystery, Space
Please follow and like us: