A charming middle grade debut featuring a fractious, poetic parrot and a lonely little boy.
*The Simple Art of Flying by Cory Leonardo. Aladdin, 2019. 384 pages.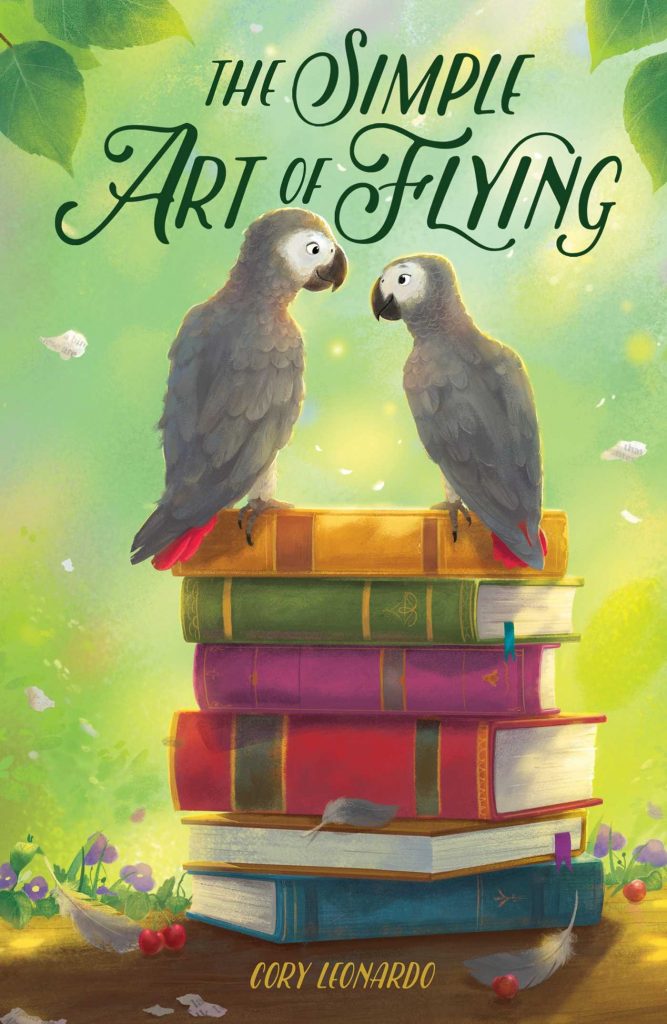 Reading Level: Middle Grades, ages 8-12
Recommended For: Middle Grades, ages 8-12
Alastair is bound and determined to escape the pet shop. Even though it's the only world he knows, he dreams of flying off with his little sister to a better life. (Based on a Florida postcard, of course; what could go wrong?). But life doesn't always go as planned, and Alastair isn't the only one facing the unexpected. Lonely old Mrs. Plopky writes letters to her late husband as a way of processing daily life while 11 year-old Fritz struggles with the loss of his beloved grandfather and wrestles with guilt. What will bring them together and help them? Take a look at the cover, and you guessed it. Along the way, Alastair reluctantly learns that sometimes reality can be better than our dreams.
It isn't often you find a novel from an animal's perspective that also involves: literature (Alastair eats literature and repeats his own version of classic poems!) cross generational friendship (a lonely old lady and little boy are united by their love of pets) as well as a gentle exploration of loss, anxiety, and denial (Alastair is certain he is NOT a plucker, even as he looses feathers bit by bit.)
Cory Leonardo's gentle humor and clever, thoughtful story are perfect for middle grade readers and remind me of the classic Dick King-Smith stories I loved so much growing up. For middle grade readers who love animals, here is a sweet story that could also make a great read-aloud.
Considerations:
Overall Rating: (5) out of 5
Worldview/Moral Rating: (4.5) out of 5
Literary/Artistic Rating: (5) out of 5
Related Reading From Redeemed Reader
We are participants in the Amazon LLC affiliate program; purchases you make through affiliate links like the one below may earn us a commission. Read more here.
Support our writers and help keep Redeemed Reader ad-free.