The One and Only Bob stars the cynical, lovable mutt from Katherine Applegate's 2012 Newbery-award-winning novel.
The One and Only Bob by Katherine Applegate. Harper, 2020, 334 pages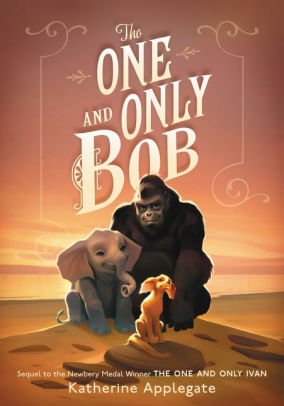 Reading Level: Middle Grades, ages 10-12
Recommended for: ages 8-14
Readers of The One and Only Ivan will remember Bob, the stray pooch who met Ivan by waking up on the 400-lb silverback gorilla's stomach. Life has improved for Bob, as it has for his friends frm the Exit 8 Big Top Mall and Video Arcade. Ivan and Ruby the baby elephant now live in a spacious animal preserve where they can congregate with others of their species and roam at will—within limits. Some, like Kimu the wolf, don't do well with limits, but Ivan is philosophical as always. He has his painting supplies and Ruby has her wordplay. As for Bob, he's happy in a new home with a safe place and reliable meals—meaning, with humans who aren't so bad. But certain memories still haunt him. Such as being packed up with his siblings in a box and hurled from a bridge. A human did that. Bob is the only one that survived, but there might have been one more, if Bob had only summoned the courage to save her.
As the story begins, a hurricane is threatening his Florida habitat (and of course Ivan's, and Ruby's, and his human Julia's as well). The cynical pup is soon hurled into a crisis that will involve quick thinking, courage, and persistence to help those he can't seem to help caring about. "It's exhausting, all this responsibility, this worry. This love."
Bob's voice is choppy and conversational: "I harass innocent squirrels. I hog the couch. I lick myself in the presence of company. I'm no saint, okay?" He will nonetheless endear himself to readers as he discovers reserves of unselfishness in a time of crisis. He'll also come to understand the nature of forgiveness (see discussion questions below)—all the while remaining thoroughly doggy. If there's a dog in your life that you love, or even if not, The One and Only Bob should warm your heart.
Overall Rating: 4.5 (out of 5)
Worldview/moral value: 3.75
Artistic value: 4.75
Consideration:
There's an evolutionary bias, which is not intrusive.
Questions to talk about:
A neighborhood dog named Droolius is kept chained in his back yard and occasionally kicked by his master, ". . . But we gotta stay true. Love 'em. Forgive 'em. . . That's the way it is. That's what we do, Bob." Some people say this is true of God: forgiveness is just what he does. How is this true and not true?
Bob has problems with forgiveness, but he also has lingering guilt. Later in the book, he's told that it's essential to forgive himself in order to forgive others. Do you think this is possible? What might be a better way to seek forgiveness?
Also at Redeemed Reader:
We are participants in the Amazon LLC affiliate program; purchases you make through affiliate links like the one below may earn us a commission. Read more here.
Support our writers and help keep Redeemed Reader ad-free.