Continuing our roundup of possible contender for the 2020 Newbery Medal
All the Greys on Greene Street by Laura Tucker. Viking, 320 pages.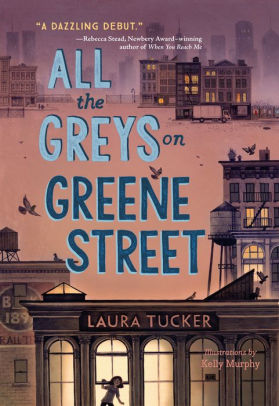 Olympia's artist dad has left their New York apartment in the middle of the night. His only explanation is a brief note with a cryptic message and instructions to destroy the note immediately after reading. Ollie suspects he's run off with another woman to France. Now her artist mom has gone to bed and won't get up. Like Lucy in The Line Tender, Ollie is an acute observer who always has a sketchpad nearby. While trying to solve the mystery of the note, and discover who keeps calling to locate a missing piece of art, and figure out where her dad actually is, she is also trying to keep the household together until her mother gets better. But that doesn't happen. Fortunately she has good friends and caring adults who come alongside when they recognize something is truly wrong. Some relationships will never heal, but life is about change and growth, and learning to observe the world around one with an artistic and appreciative eye can help.
Pros: The story is beautifully written with sympathetic and complex characters. I especially liked the author's treatment of Apollo, a fellow artist who keeps us guessing at first but turns out to be a reliable adult guide for the protagonist.
Cons: The plot is not particularly well structured. Ollie has a lot of irons in the fire, and while she's tending to one plot thread, the others go slack. Although the novel is sometimes billed as a mystery, it's not always clear what the mystery is. A more significant problem is that the breakup of Ollie's parents is too easily justified—not just to her dad, but to the reader. It's almost as if her dad's artistic ambitions justify his actions (Pay Attention, Carter Jones presents much more accurate view of the harm done by such a betrayal). The overall tone seems aimed more toward adults than children.
Overall Rating: 3.5 (out of 5)
See our reviews of other books about parental depression: Family Game Night, For Black Girls Like Me, and Where the Watermelons Grow.
This Was Our Pact by Ryan Andrews. First Second, 2019, 336 pages.
Five boys and one unwelcome tagalong set out on their bikes to follow the lanterns set loose on the river during the Autumn Equinox festival. In all previous years the friends have turned back at the bridge on the outskirts of town. But this year they're determined to follow the lanterns all the way to their final destination and get to the root of the legend behind the custom. It's a pact made between the five, but one by one all the boys turn back—except Ben and Nathaniel, the tagalong that nobody wanted in the first place. The two will bond as they continue on their journey, even though their personalities sometimes clash. The Solomonic Proverb about two being better than one (Eccl. 4:9) certainly holds up, but they will also meet significant help along the way. It's a parable about growing up, in a way that especially appeals to boys: answering the call of adventure, bonding, exploring, searching, and stretching. Will they complete their quest? What waits for them at lanterns' end?
Pros: This is an intriguing premise for a graphic novel. The tone is whimsical and humorous while touching lightly on themes of science vs. magic, traditional wisdom, youth and maturity. It all takes place at night, with a slightly spooky cast that brightens toward the end.
Cons: Personally, I would give it a much stronger review if not for several instances of "omg" profanity.
Overall rating: 3.75
For a similar graphic novel with some fantasy elements and a special appeal to girls, see our starred review of Jane, the Fox, and Me.
A Good Kind of Trouble by Lisa Moor Ramee. Balzer + Bray (HarperCollins), 2019, 358 pages.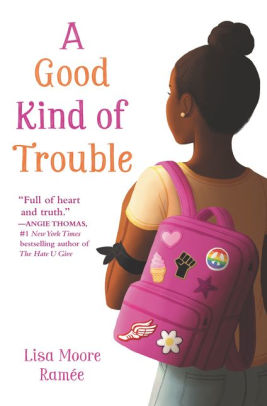 Shayla has all the normal concerns of a middle-grade girl: hanging out with her friends, obsessing over physical flaws, worrying about attracting attention from the wrong people while getting the right ones (i.e., cute boys) to notice her. Now that she's in junior high, all those concerns are magnified. Two boys like her but she doesn't return the favor. The one she does like seems to be falling for her best friend Isabella. Shayla's been drawn into the track team even though she can't manage hurdles, and her new lab partner is a massive bully. Over all this tween trauma is one massive fact: Shayla is Black. It shouldn't matter, in this day and age, but the whole city of L.A. is riveted on the trial of a white policewoman who shot a Black man in the back. Video cameras say it was unprovoked, but will the policewoman be held guilty? The Black community is holding its breath and Shayla's sister has the protest sign already lettered.
Pros: The treatment of a difficult subject is about right for middle-graders. Reading is supposed to broaden understanding of other lives, and this is an accessible, engaging look into the life of a middle-class girl of an intact family who is bright, talented, and personable—and nonetheless experiences life differently because of her color. She hates trouble, as most of us do, but sometimes there's the good kind that pushes us out and up. Her family prays before meals and refers to God but there is no mention of church.
Cons: No "cons," really, beyond the unquestioning acceptance of Black Lives Matter. Some aspects of that left-leaning organization (such as devaluing traditional families) are not helpful. White readers may also object to Shayla's mom's explanation that "for too long people have been fed a diet about Black folks . . . Making them think we're scary. And that's how the police have been trained to act." We may think, Hey, that's not me! But first we need to listen. There's one instance of profanity.
Overall Rating: 4
Also on Redeemed Reader: See our review of The Hate U Give, a YA novel that covers much of the same territory in greater depth and detail.
To Night Owl from Dogfish by Holly Goldberg Sloan and Meg Wolzer. Dial, 2019, 304 pages.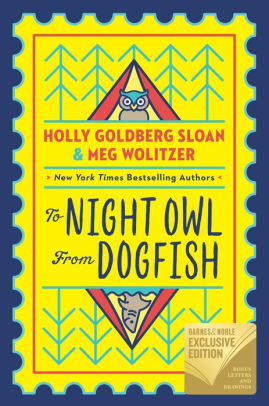 West-coast Bett and East-coast Avery met because their dads fell in love in Chicago and decided it would be great if their daughters attended the same summer camp. Meanwhile the dads, Sam and Marlow, will go on a motorcycle tour of China. The girls get wind of the plan, make contact through email, and decide this is not happening. But guess what? It happens, and in spite of their many personality differences, Bett and Avery become best friends. And then what? The China adventure was not such a swell idea and the dads come home much cooler to each other. Since the girls now feel like sisters, what is there to do but scheme to get their dads together again? That works out about as well as you would expect. There's more to this gay-friendly twist on The Parent Trap, including a significant subplot involving Bett's Grandma and Avery's mom (not a romance).
Pros: The story is told entirely by emails, notes, letters, memos, and announcements, mostly by the two protagonists. But other characters get to have a voice too, and that makes for a well-rounded story from several perspectives.
Cons: This is the first MG novel I've read where the parents' sexual preference is a major plot driver, not a sidebar. It strikes me that the adults, with all their relationship drama, act less mature than the kids. If Sam and Marlow were a hetero couple, their romantic escapades (falling in and out of love, forming new attachments, shuffling the kids aside so they can have more time together) would be seen as a problem. I was especially troubled by Sam's early attempts to keep Avery from ever meeting her mother. But because they're gay, all is lightly passed over. Their story is semi-comic with one near-tragedy to draw everyone together. At the end the girls conclude, "No one can tell you what is or isn't a family . . . You only need to listen to your heart." But if the composition keeps changing as parents make a major priority of listening to their hearts, is a family even possible?
Overall Rating: 2.5
We are participants in the Amazon LLC affiliate program; purchases you make through affiliate links like the one below may earn us a commission. Read more here.
More than 75 books for children and teens, all about islands, oceans, and more. Bonus: get a free hand-drawn reading tracker!
Reading Ahead for You
Reviews and Resources Weekly in Your Inbox