Jane, the Fox, and Me by Fanny Britt and Isobelle Arsenault (translated from the original French).  Groundwood, 2014, 101 pages.  
Reading Level: Middle Grades, ages 10-12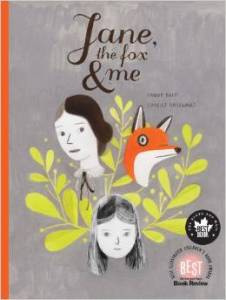 Maturity Level: 4 (ages 11-12) and up
One-line Summary: Jane, the Fox, and Me is a graphic novel that shows, through clever use of shading and space, how self-image is largely self-created, and a broader view leads to freedom.
"Helene weighs 216."  That's what the mean girls scrawl on the door of the restroom stall: "And she smells like B.O.!"  Wherever Helene goes, they're always lounging and smirking right around the corner: Genevieve, Anne-Julie, Sarah and Chloe.  Now in junior high or middle school (or whatever they call it in Montreal), Helene has become the designated outcast.  She seeks solace, like girl punching-bags from time immemorial, in books.  Especially the latest, the best book she's ever read: Jane Eyre.  Jane is a kindred spirit—cast-off, small, and picked-on, who manages to grow up to be "clever, slender and wise"—so maybe Helene can too.  But it's a long way to grown up, and in the meantime she has this image problem.  She sees herself actually weighing "216" or "316" (pounds, or kilos?); while trying on plain and fancy bathing suits before going off to school nature camp, she's either a ballerina sausage or an undertaker sausage.  
Yet in panel after panel of this understated graphic novel, we see her as normal—even on the skinny side.  And maybe the world isn't quite so mean as she thinks.  During the week at nature camp, we see a friendly circle of faces around the campfire turn mean and hostile when seen through Helene's narrow lens.  Gradually the reader comes to understand that, though the bullying is real, Helene is using the wrong strategy to deal with it.  It takes a fox with kind eyes, an exuberant girl named Geraldine, and the conclusion of Jane Eyre to convince Helene that positive relationships can build one up more than negative relationships tear one down.  Just look at Mr. Rochester: He is maimed, blind, unkempt—and she still loves him.  He can't believe it.  Neither can I.  Something like that would never happen in real life—would it?  By then the panels—dominated by dark doorways, grim landscapes, boxy buildings, and Helene's perpetually weary expression–have softened and begin to glow with color.  Thus it is when we start to get out of ourselves . . . and realize that Somebody still loves us.

Cautions: Mild vulgarity (crude behavior from Helene's tormenters)
Overall Value: 4.75 (out of 5)
Worldview/moral value

:

4

Artistic value

: 5

Categories: Fiction, Graphic Novel, Starred Review, Realistic Fiction, Life Issues, Literature
Cover image from Amazon
Please follow and like us: