A trio of siblings and their detached father come to the breaking point with their mother's hoarding habit.
Family Game Night and Other Catastrophes by Mary E. Lambert.  Scholastic, 2017, 245 pages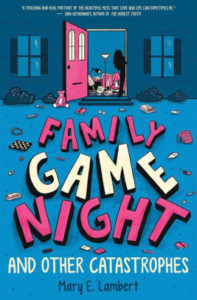 Reading Level: Middle grades, ages 10-12
Recommended for: 10-14
When her little sister Leslie is almost killed by a stack of newspapers, Annabelle knows it was time to do something about her mom's hoarding problem.  But "almost killed" is an exaggeration, and so is "time to do something."  In the years since mom started collecting soup cans, old linens, empty milk bottles and papers of all description, much has been shouted but nothing done.  Dad usually retreats to his study when he's had enough, big brother Chad takes off in his truck, Annabelle checks and double-checks her resolutely-bare room.  The brunt falls on Leslie, who has been having dreams so intense they make her sick.  After Dad departs, two weeks ahead of schedule, for his annual lecture trip to England, the situation gets so bad Leslie calls Grandma Nora.  Grandma marches in like a drill sergeant, determined to clean up once and for all.  The life of the family is at stake!
Hoarding may not be a common problem, but have you ever been inside a house that made you feel like you were being swallowed by stuff?  Annabelle lives in such a house, and her response is to go ODC: "I have to, have to, have to" ritually inspect her bedroom at least once a day, just as her mom is driven to collect.  Family dynamics play out against this background.  In spite of the jokey title and Annabelle's humorous, sharply observant voice, Mom has a serious problem that threatens to destroy the family.  We never get to the source of that problem and her personality is hard to grasp (perhaps on purpose–she's disappearing behind the stuff).  The real strength of this novel is shown in how everyone in the family bears some responsibility for the family's well-being.  The hopeful ending is well-earned.
Cautions: None
Overall Rating: 4 (out of 5)
Worldview/moral value: 3.5
Artistic value: 4.5
More than 75 books for children and teens, all about islands, oceans, and more. Bonus: get a free hand-drawn reading tracker!
Reading Ahead for You
Reviews and Resources Weekly in Your Inbox