Newbery season is upon us, culminating in the American Library Association Youth Media Awards on January 27. We've been keeping an eye on books that have been talked up as possible contenders. It's impossible to forecast what will tickle the fancy of this year's Newbery committee, but here are three titles that keep showing up on "Best Of" lists and mock Newbery ballots.
The Line Tender by Kate Allen. Dutton (Penguin Random House), 2019, 317 pages.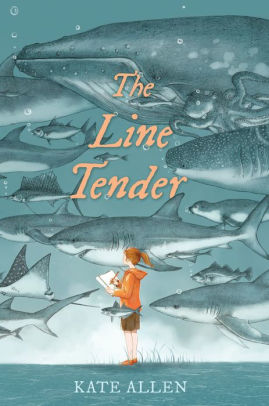 A rescue diver jumps into deep or opaque water to save people. A line tender holds the tether attached to the diver, readiy to pull him up at the first sign of distress or retrieval. Lucy Everhart's father is a diver, but he couldn't rescue her mother when Mom succumbed to cardiac arrest on a shark-surveying expedition. And he couldn't keep Lucy's best friend Fred from downing in the local granite quarry. That's two great losses, five years apart. Lucy is told that she and Fred had a "meaningful friendship." But what did it mean? Is there any line to tens the parts of her world, the relationships and, yes, the meaning, since the loss of her mother set it all adrift? The beauty and mystery of the sea, enhanced by eloquent sketches of sea life, is the distinctive feature of this story. We encounter the theme in the epigram by Rachel Carson: "Those who contemplate the beauty of the earth find reserves of strength that will endure as long as life lasts . . ."
Pros: Lucy is a moody, somber girl with great powers of observation (she's the sketch artist). There's much to be said about contemplating the beauty of the earth, and readers who stick with the narrative should emerge with a greater appreciation of the boundless sea. They should learn something about human nature and responsibility, too. From Lucy's dad, the rescue diver: "We're all good people who have done stupid things. We have to look out for one another . . . Rescue each other, even."
Cons: "We're all good people" is certainly debatable. Also, contra Rachel Carson, is contemplating the beauty of the earth (though a good start), meaningful enough? The tone is quiet to the point of depressing, also understated and slow. I wonder how many kids will actually enjoy reading it. This is one of many books for young readers that attempt to solve the riddle of death, but there's only one real solution.
Overall Rating: 4 out of 5
Also at Redeemed Reader: See "Dealing with Death: Bridge to Terebithia."
Tristan Strong Punches a Hole in the Sky by Kwame Mbalia. Disney/Hyperion (Rick Riodan Presents), 2019, 481 pages.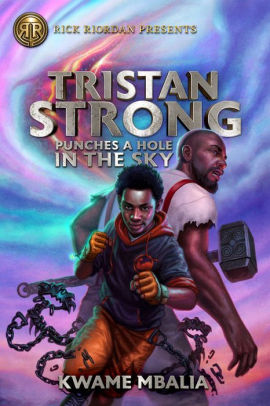 Publisher's summary: "Seventh-grader Tristan Strong tumbles into the MidPass and, with allies John Henry and Brer Rabbit, must entice the god Anansi to come out of hiding and seal the hole Tristan accidentally ripped in the sky." That's as terse as a summary can be—there's much more. Tristan is a boxer, although his old-school grandpa, with whom he's staying the summer, takes issue with that description. Grandma knows there's more to life than work and making your own way. Tristan got his love of stories from her, especially traditional African myths. It's a love he shared with his best friend Eddie, who wrote them down in a notebook. But Eddie recently died in a bus accident, and his grieving pal is left with the notebook—which is beginning to display some weird behavior. Back on the farm, where hard work is supposed to redeem him, Tristan discovers the bottle forest, where the spirits of past "haints" are confined. Breaking one bottle rips the aforementioned hole in the sky and also releases a ghost who calls himself "Uncle C." The sudden aperture plunges Tristan into the MidPass, where bone ships roam and fetterlings prowl. From there it's one wild ride after another in an alternate African universe. "Crowd-pleasing" novels, like blockbuster movies at Oscar time, seldom appear in the running for the Newbery award, but this one may have enough multicultural appeal to break the mold.
Pros: The story is clean, well-written, and engaging from the first page, with a distinctive voice and characters. (I laughed at this line: "When grownups get on their high horses, those things gallop for days.") African mythology (such as the Anansi tales) merges with African-American legends like John Henry to create a potboiler of a plot.
Cons: MidPass reflects the infamous Middle Passage of the Atlantic slave trade; fetterlings are animated chains. Punching a hole in the sky threatens to suck this alternate world into bondage. Only stories can save them: "Power, boy! It's all about power. You control the story, you control the narrative, you control the power." There's a lot of truth in this, but is all Africa haunted by slavery, or is that an American chapter that threatens to swamp the entire heritage?
Overall Rating: 3.75 out of 5
Also at Redeemed Reader: see "'A Story, A Story': Thinking through African Mythology."
1919: The Year That Changed America by Martin W. Sandler. Bloomsbury, 2019, 182 pages + bibliography and index.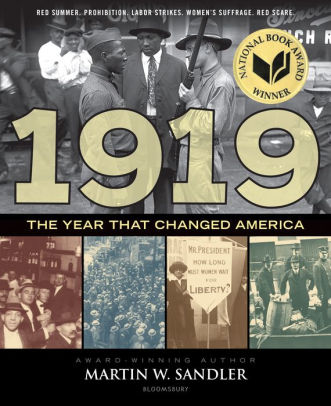 First, a brief disclaimer. 1919 won the 2019 National Book Award for excellence in children's literature, and it seems to be an unspoken rule that whatever the NBA critics pick is never under consideration by the Newbery committee. With very few exceptions, that has been the case since there was a National Book Award for children's lit, and this year will probably be no different. Still . . . The author begins with "an Amazing Event"—the great molasses flood in Boston that January. No laughing matter—shoddy construction of a storage vat led to 2.5 million gallons of thick, black stickiness pouring through streets and causing numerous fatalities and millions of dollars' worth of damage. "The tragedy . . . led Massachusetts to adopt the most stringent regulations for the construction of buildings," which in turn led to regulating construction nationwide. Thus the pattern is set: each incident described in that pivotal year had consequences for the us even now. Women's suffrage was a major step on the way to equal rights. Bloody Race riots were a progenitor of Black Lives Matter. The Bolshevik Revolution in Russia sparked a distrust of all immigrants ("Muslim ban," anyone?), and labor strikes began to focus on unfettered capitalism, a major theme in today's political campaigns. Finally, Prohibition, the "Noble Experiment," raised important questions about personal liberty vs. laws promoting the common good.
Pros: It's a very worthwhile exercise to track current debates to their progenitors in the past; that's partly what the study of history is all about, and 1919 makes an earnest effort to add drama and thoughtfulness to the events it narrates.
Cons: I don't think the author proves his point about the significance of 1919 in particular. The issues he discusses flowed through that year on their way to further historical development, and in that sense 1919 was no more pivotal than 1918 or 1920. Also, there's a distinct leftward bias. Here are just three examples. On page 57 voter ID laws are directly linked to the type of voter suppression laws employed in the south to keep blacks away from the polls. (You'd never know there's a legitimate case to be made for voter ID.) On page 63 Roe v. Wade is cited as a milestone in women's rights. On page 107, during the discussion of communism, "[Joe] McCarthy had no proof of the existence of any Communists in the state department." But he did, and there were.
Overall Rating: 3 out of 5
Also at Redeemed Reader: See our review of Treaties, Trenches, Mud and Blood, an outstanding graphic-novel treatment of World War I.
We are participants in the Amazon LLC affiliate program; purchases you make through affiliate links like the one below earn us a commission.
More than 75 books for children and teens, all about islands, oceans, and more. Bonus: get a free hand-drawn reading tracker!
Reading Ahead for You
Reviews and Resources Weekly in Your Inbox