A lonely boy on Christmas Eve learns the power of giving through "One Christmas Wish."
One Christmas Wish by Katherine Rundell, illustrated by Emily Sutton. Simon & Shuster, 2017, 64 pages.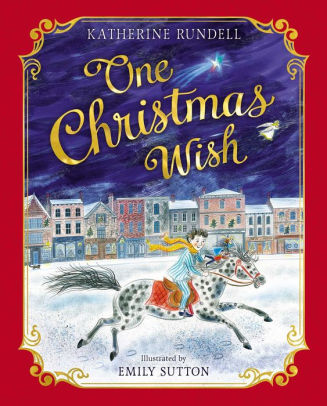 Reading level: Picture book, ages 8-10
Recommended for: Ages 4-up as a read-aloud, 6-8 as a read-alone
"It was Christmas Eve, and Theodore was fighting a cardboard box. The box was winning."
Theodore must be very determined to get past the layers of packing tape and crumbly tissue and cracked baubles, but at the very bottom of the box he discovers four distinctive, if a bit worse for wear, Christmas tree ornaments. They are a molting angel, a rusty tin soldier, a threadbare robin, and a rocking horse slightly nibbled by woodworms. Theo gamely hangs them on the tree—all alone, because both parents are working late and the babysitter has fallen asleep nestled against her phone. Brooding into the night through his windiw, Theo glimpses a red and green shooting star, just the thing for a Christmas wish. "His father always said, When you wish, you have to wish with every inch of your heart." So Theo engages every inch of heart while wishing for someone to share Christmas Eve with him. And it works!
The next thing he knows, all four ornaments are struggling to climb down from the tree and make his acquaintance. It turns out that all four have needs and wishes of their own, and Theo can help with all of them. The quartet are good company—though the horse has a tendency to eat everything in sight—but Theo has deeper needs than good company. Will those be met? This is a sweet, satisfying tale with deeper implications than meet the eye, although there's plenty to feast the eyes in the many detailed double-page spreads. The page length makes for a substantial winter's read beside the tree with mugs of hot chocolate and cozy slippers, and may become a holiday favorite.
Overall rating: 4.5 (out of 5)
Worldview/moral value: 4.25
Artistic/literary value: 4.75
We are participants in the Amazon LLC affiliate program; purchases you make through affiliate links like the one below earn us a commission. NOTE: The link below is for the paperback edition. Click on "other formats" for the hardcover.
More at Redeemed Reader
Two middle-grade novels by Katherine Rundell that received high marks from us are The Explorer and The Good Thieves. Also, her Into the Jungle: Stories for Mowgli is on our "New Books for Gift-Giving" list this year.
Stuck at home? Enjoy our FREE Christian read-along adventure for all ages with lots of book ideas, discussion questions, and more!
Reading Ahead for You
Reviews and Resources Weekly in Your Inbox