What happened "Long Ago on a Silent Night" resonates down the ages, in this lovely, evocative picture book.
*Long Ago, on a Silent Night by Julie Berry, illustrated by Annie Wong. Scholastic/Orchard, 2019, 34 pages.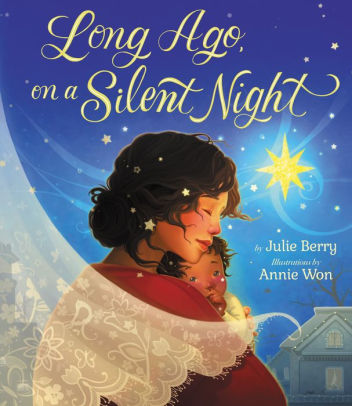 Reading Level: Picture book, ages 4-8
Recommended for: All Ages
Long ago and far away,/ a baby was born on Christmas Day,/ Shepherds knelt and angels sang/ Til the night sky with rejoicing rang./ This wonder was seen by a lucky few./ I see a miracle in you.
Childbirth is, in a way, the most normal and natural event in the world, and yet most new parents see something miraculous in it. Long, long ago, a child was promised to a shivering couple in a garden, and all their progeny since may have wondered, "Could this child be the one?" Mary and Joseph likewise wondered what their sleeping baby would be: divinity delivered upon a bed a straw. The one Righteous Man began this way, and every baby since seems a kind of miracle.
Julie Berry, author of outstanding novels for teens, writes from the wonder she experienced at the birth of her own firstborn son, a long-ago and far-away reflection of that other Firstborn. Gentle rhyming stanzas make that explicit. The gorgeous illustrations—sometimes too gorgeous, prettifying what must have been a traumatic birth experience in Bethehem—still capture the wonder of mystery and the perpetual "newness" of that event. Magi are seen wandering the streets of a modern city, seeking him who is born King of the Jews. Anna and Simeon, waiting eagerly in the Temple, become Grandma and Grandpa meeting their new progeny for the first time. A dreaming child wears the treasures of earth as a crown. This is a picture book that deserves to be read over and over, as we ponder these things in our hearts.
Overall Rating: 5 (out of 5)
Worldview/moral value: 5
Artistic/literary value: 5
Also by Julie Berry: The Passion of Dolssa and Lovely War. We've reviewed many Christmas picture books over the years; some of our favorites are Christmas Is Here, The Story of Christmas, and Song of the Stars. For even more picture-book ideas, don't miss our mega-post roundup of all our Christmas book and gift lists!
We are participants in the Amazon LLC affiliate program; purchases you make through affiliate links like the one below earn us a commission.
Support our writers and help keep Redeemed Reader ad-free.