The Good Thieves combines compelling action and an irresistible "heist" tale with striking prose.
The Good Thieves by Katherine Rundel. Simon & Schuster, 2019, 272 pages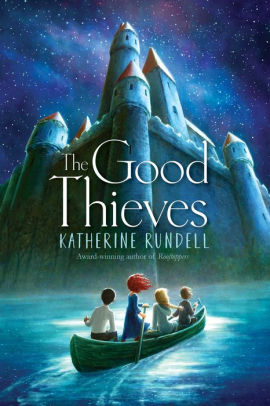 Reading Level: Middle Grades, ages 10-12
Recommended for: ages 10-15
"New York climbed out of the mist, sky-high and gray blue and beautiful; so beautiful it pulled Vita forward to the bow of the boat to stare." She and her mother have crossed the water in response to a recent tragedy—the death of Vita's grandmother Lizzie. Now further misfortune has befallen her grandfather, Jack Welles: cheated out of his ancestral home on the Hudson by an unscrupulous real-estate tycoon named Sorotorre. After meeting Sorotorre, Vita is determined to expose him as a cheat and a thief. But what can a young girl do, especially one with an obvious and ugly deformed leg (the result of polio), whose only physical talent is a strong and accurate throwing arm. The answer is plain after meeting Silk, a girl with fast hands who makes her living picking pockets, Arcady the animal-whisperer, and the astoundingly graceful Samuel, a would-be circus flier: there's her team of thieves. Good thieves, intent on stealing back what was wrongfully stolen.
The story plays out like a good heist movie: the gifted accomplices, the plan, the set-up, the set-back, the final act with close calls and nail-biting suspense. In addition to the strong plot and character, the prose is striking, hinting at the richness of language and of life. I'm giving nothing away to say the plan succeeds—even better, love prevails, but getting there is most of the fun.
Considerations:
There is one misuse of God's name.
Worth discussing: is there such a thing as a "good" thief? Might there be other ways for Vita and her team to right this wrong?
Overall rating: 4.5 (out of 5)
Worldview/moral value: 4
Artistic/literary value: 5
We also liked Katherine Rundell's The Explorer, another tale of adventure and strong characterization, and gave a starred review to Into the Jungle, a book of Kipling-esque tales.
We are participants in the Amazon LLC affiliate program; purchases you make through affiliate links like the one below may earn us a commission. Read more here.
Stuck at home? Enjoy our FREE Christian read-along adventure for all ages with lots of book ideas, discussion questions, and more!
Reading Ahead for You
Reviews and Resources Weekly in Your Inbox